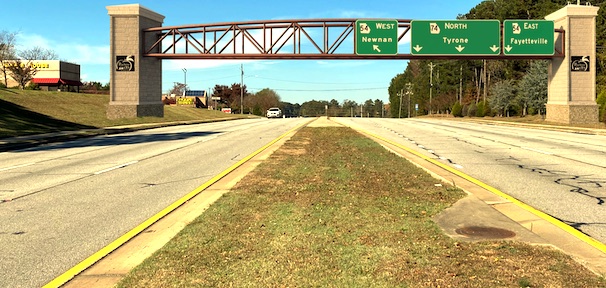 The City Council of Peachtree City will discuss Wednesday evening choosing the appearance of cross-highway signage for the city's busiest intersection at Ga. highways 54 and 74 in anticipation of coming left turn lane changes there.
Also on the workshop agenda is the proposed legislative de-annexation of a sliver of Tyrone adjacent to Wilksmoor Village's northeastern boundary. Neither the Tyrone Council nor Peachtree City's Council will have a vote to decide the matter.
CITY COUNCIL OF PEACHTREE CITY
SPECIAL CALLED WORKSHOP
JANUARY 18, 2023
6:30 P.M.
The Mayor and City Council of Peachtree City will hold a special called workshop on Wednesday, January 18, 6:30 p.m., in Council Chambers located at City Hall, 151 Willowbend Rd, Peachtree City, GA 30269.
The purpose of the workshop is…
1. 54/74 Displaced Left Turn (DLT) Signage Design
2. Discussion regarding proposed de-annexation of property from Tyrone by General Assembly.