 Vera Lee (Crymes) Holbrook, 102 years old, from Peachtree City, GA, passed away at Life Care Center of Rhea County, TN, on Wednesday, October 19, 2022, with her family by her side.
She was born on September 5, 1920, in Atlanta, GA, the daughter of the late William Harrison Crymes and Emily Elizabeth (Stanley) Crymes. Vera was also preceded in death by her husband of 50 years, Robert E. Holbrook; her middle child, William Lee Holbrook; and her eight brothers and sisters.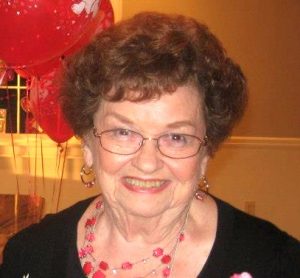 Vera was the only child in her family to graduate from high school, Girls High Class of 1938. She retired after 46 years of working at Sears in downtown Atlanta, GA, and was a member of several social organizations in Atlanta. She traveled and cruised all over the United States, Hawaii, Australia, and New Zealand.
She loved her children, grandchildren, and her gigantic extended family with a passion. Some of her favorite memories were traveling with her sister Edna and going every year on the annual Crymes family vacation in Perdido Key, FL, with more than 50 family members always present.
She is survived by her two children, Robert (Jimmy Ellen) Holbrook of Newnan, GA, and Cindy Holbrook (Troy) Davidson of Dayton, TN, and her daughter-in-law, Elizabeth Holbrook of Cartersville, GA. She is also survived by her six grandchildren, Bobbie (Neal) Sampson of St. Simons Island, GA; William (Beverly) Holbrook Jr. of Louisville, KY; Cheri (David) Barnett of Sharpsburg, GA; Jennifer (Lewis) Grady of Lexington, SC; and Jeremy (Tracy) Davidson and Jayson (Sabrina) Davidson, both of Dayton, TN. Vera is survived by 14 great-grandchildren, Robbie, Ben, Josh, Savannah, Emily, Alex, Hope, Spencer, Brooke, Brynn, Landon, Beckham, Josie, and Levi. She is also survived by her seven great-great-grandchildren, Christopher, Oliver, Cooper, Walker, Grayson, Gavin, and Sadie.
A Homegoing Celebration for Vera will be held on Saturday, November 5, 2022, at 4:00 p.m. at Woolsey Baptist Church in Fayetteville, GA, with Rev. Chuck Chambers officiating. The family will receive friends one hour before the Celebration service.
Please share your memories and photos of Vera on her online guest register at www.vanderwallfh.com.
The family is being cared for by Vanderwall Funeral Home in Dayton, TN.