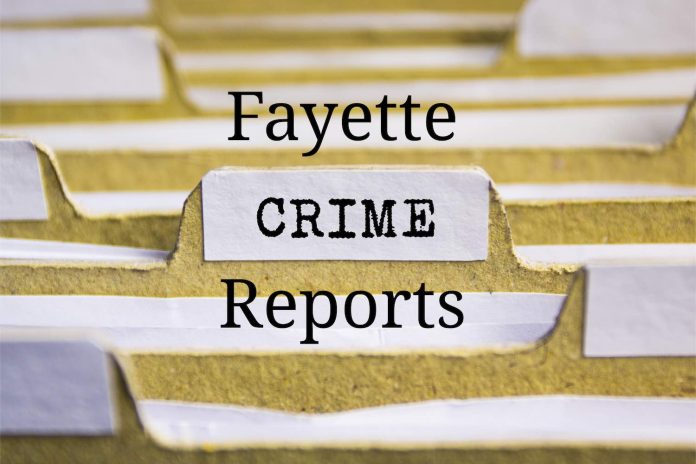 A recent stay at Piedmont Fayette Hospital came with a surprise for the patient when he left the next morning and found his vehicle had been stolen overnight.
Fayetteville Police Department spokesman Mike Francis said the owner of the 1999 Chevrolet Suburban had been a patient at the hospital and had stayed overnight on Oct. 10 after arriving at the facility at 2:10 p.m.
The man checked out on the morning of Oct. 11 and went to the parking lot, only to find his vehicle missing, Francis said, adding that the police report noted that the man was in possession of the vehicle's keys when it was stolen.
Another case, occurring across the street at Togwotee Village retail area on Oct. 12, resulted in the theft of $1,600 in items from a vehicle while the owner was inside one of the businesses.
Francis said the owner exited the business to find his book bag and laptop computer stolen from the vehicle. The items had been left on the passenger seat.
Francis said the vehicle showed no signs of forced entry.
It is noteworthy that the overwhelming majority of entering auto thefts occur when a vehicle is left unlocked and valuables are left in plain sight.
A separate case, this one a business burglary, occurred in unincorporated Fayette County.
Sheriff Barry Babb said deputies on Oct. 10 responded to a burglary call at Big John's Mini Storage on Ga. Highway 138 in north Fayette.
Deputies were told that one of the storage units had been forced open between Oct. 3-10, with items such as hand tools, pressure washers and a generator stolen. The items were valued at $1,800.
The final case is more a word to the wise, especially for the guys.
The incident, one which will bring an expense for fines and court costs, occurred on Oct. 12 in the parking lot of a business on Ga. Highway 54 West in Peachtree City.
Police just after 7 p.m. responded to a public indecency call relating to a man who exposed himself and urinated next to his vehicle, then drove off, police reports said.
It turned out that the 50-year-old was an employee of a nearby business who couldn't wait to do his business in the appropriate place. He was cited for indecency and will have to pay the fine and court costs.