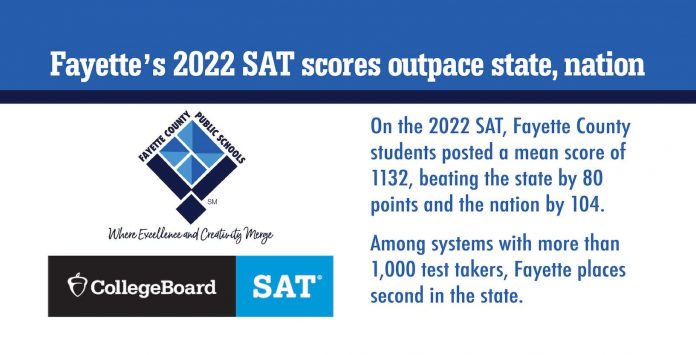 McIntosh High had the 15th highest average in Georgia — 
Fayette County's public high school students again greatly outpaced the rest of Georgia and the country as a whole on the 2022 SAT, according to results released by the College Board.
Fayette County Public Schools students posted a mean score of 1132, beating the state mean by 80 points and the nation's score by 104 points. The mean is the sum of all scores added together and divided by the number of scores, and is what most people understand as the "average."
Fayette has the second highest mean score in the state and metro Atlanta when compared to systems with more than 1,000 test takers.
In a comparative breakdown of the mean score, Fayette had an evidence-based reading and writing (ERW) mean of 571; the state posted a 536 mean and the nation a 521 mean.
In math, Fayette had a mean of 561 compared to the state's mean of 516 and the nation's mean of 507.
Out of the 393 Georgia High Schools with 2022 SAT scores, all five Fayette high schools ranked in the top 33 percent in state.
McIntosh High had 15th highest mean score in the state at 1183 (ERW 591, math 592); Starr's Mill High came in 21st with a mean of 1151 (ERW 574, math 577); Whitewater High came in 32nd with a mean of 1122 (ERW 574, math 548); Sandy Creek High came in 62nd with a mean of 1080 (ERW 551, math 529); and Fayette County High came in 85th with a mean of 1049 (ERW 537, math 512).
Sandy Creek's mean score went up 14 points from 2021, and Fayette County High's mean went up 7 points.