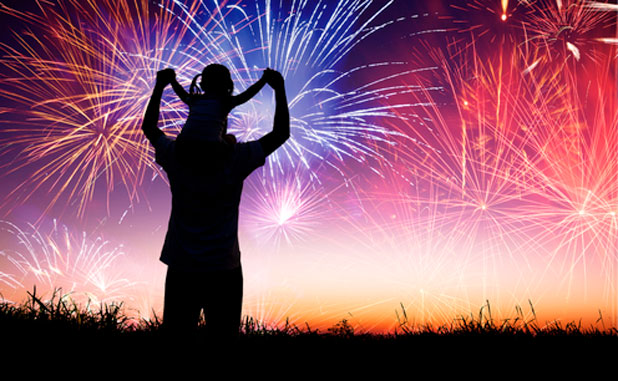 Celebrate the birth of our country with the annual Peachtree City Independence Day Parade and Fireworks on Monday, July 4.
Direction signs are up on all roads leading to and from the City Hall / Drake Field area, a familiar sight to long-time residents at this time of year.
The iconic July 4th Parade will feature decorated golf carts, politicians walking and riding, floats from churches and civic groups and thousands of expectant spectators lining the parade route.
The parade begins at 9 a.m. on Peachtree Parkway South at the entrance to Village on the Green and will travel 2 miles, concluding at the McIntosh Trail Complex.
The Independence Day weather forecast is the equivalent of a coin flip — a 50% chance of showers and thunderstorms, mainly after 2 p.m. Skies are expected to be partly sunny with a high of 89. Winds are expected to be calm becoming northeast around 5 mph, according to the National Weather Service's Forecast Office in Peachtree City.
Fireworks will begin at dusk over Lake Peachtree, the city says. So when is dusk?
Let's figure it this way: Sunset on July 4 in the Peachtree City area will be at 8:51 p.m. The official "civil twilight" ends at 9:20 p.m. At that point, night officially begins. So our notion of dusk extends 29 minutes. Based on past years' experiences, you likely will see the first cascading showers of light and booms over Lake Peachtree between 9 and 9:15.
Get ready to use your stored-up whoaahs and aaahhhs and awww-rights during that next 20 minutes. Peachtree City puts on a show to take its place as part of what Founding Father John Adams visualized on that July day 246 years ago: "It ought to be solemnized with Pomp and Parade, with Shews, Games, Sports, Guns, Bells, Bonfires and Illuminations from one End of this Continent to the other from this Time forward forever more."