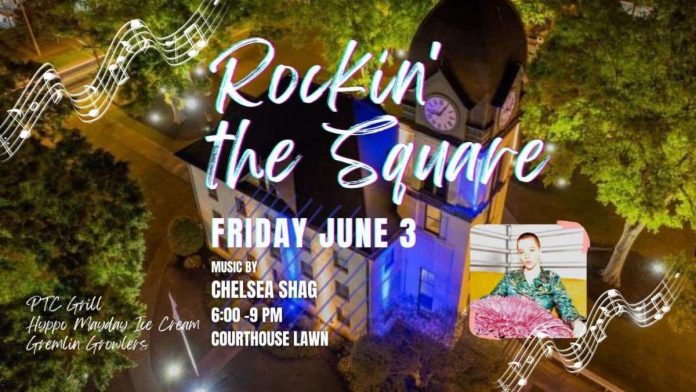 Main Street Fayetteville will host its first-ever Rockin' the Square concert on the Old Courthouse Lawn Friday night, June 2, 6-9 p.m. Admission is free, and ample parking is available in the Downtown area.
Live music by Chelsea Shag will highlight the evening, which will also include food, drink, and treats offered by PTC Grill, Hyppo Mayday Ice Cream, and Gremlin Growlers. A broader array of takeout fare is available from restaurants on the Courthouse Square. Twenty unique vendors will sell items from their booths on the Courthouse Lawn.
Guests are invited to bring their own lawn chairs and blankets.
Main Street Fayetteville's big year of Downtown Fayetteville events continues Saturday, June 4, with Fitness in the Park at 11 a.m., Screen on the Green at City Center Park featuring "Encanto" on Friday, June 17, at 8 p.m., and then the first-ever Sun Games event at City Center Park on Saturday, June 11, 11 a.m. to 3 p.m.
For more information on upcoming Main Street Fayetteville events, visit www.Fayetteville-GA.gov/Events, and follow them on social media: Facebook and Instagram @MainStreetFayettevilleGA. You may also contact Main Street Events Specialist Jillian Mason: jmason@fayetteville-ga.gov, 770-719-4172.