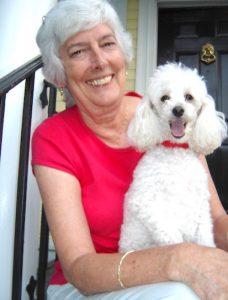 Marie Carter Washburn of Peachtree City, GA passed away peacefully on October 31, 2021. Born in Hiltons, Va. on June 27, 1939 to John and Laura (O'Neal) Carter, she and her beloved brother, Neal, were raised by Harrison "Harry" (Grandaddy) and Lucinda (Granny) McNutt after her mother's death; followed immediately by her father's deployment to World War II with the U.S. Navy.
Marie was a loyal, loving mother, aunt, friend and, especially, "Somemommy" to her grandchildren and great-grandchildren. She instilled in her family a love for the mountains of her youth, reading, and a curiosity about a wide-range of subjects, upon which they typically formed strong and often immovable opinions! A graduate of Berea College in Kentucky with a B.A., Marie then attended the University of Tennessee where she earned her M.A. in Counseling and later received her Ed.S. degree from the University of West Georgia.
Marie's natural leadership style flourished under the mentorship of Mr. Bobby Martin, and in 1973 she became principal of Cliftondale Elementary School in Cliftondale, GA. In 1984, she became principal of Seaborn Lee Elementary School in College Park, GA.
As a single mom in the 1970s, Marie faced many societal and financial challenges and obstacles. As an example, she wasn't able to obtain a credit card in her name but she persevered and broke through barriers. She inspired many with her determination and fierce work ethic. She was proudest of the fact that all of her children earned college degrees and are successful in their respective fields.
She retired in 1996 to begin her next chapter serving as a volunteer with many local organizations until the pandemic began. Marie served faithfully as a volunteer with Meals on Wheels, Piedmont Fayette Hospital Auxiliary, Peachtree City Library Board, Fayette County Library Board, Flint River Regional Library Board, a student mentor at Peachtree City Elementary School, South Fulton Retired Teacher's Association, and the annual Alzheimer's Walk.
Marie enjoyed spending time with her family, her many lifelong friends, a very special Book Club, playing bridge, reading, and her Bunco group.
Marie is survived by son B. Scott and Sandy Washburn of Melbourne Beach, FL, daughter Kristi and Steve Rapson of Sharpsburg, GA, and son Dr. Thomas and Shanon Washburn of Milton, GA. Grandchildren include Shelley (David) Walton, Brent (Kiley) Washburn, Shane Washburn, Stephanie Rapson, Andrew (Cortnee) Rapson, Sarah Beth Rapson, Wes Washburn and Carter Washburn, and nine great-grandchildren. She also is survived by her niece Robin Carter, nephews Brian (Cheryl) McClellan, Kirby (Florenda) Carter, Jimmy (Suzi) Carroll, their children and grandchildren, her dear friend Fleda Little, and extended family members.
She was predeceased by her parents, siblings W. Neal Carter, Janet Carroll, David Carter, and former husband Thomas L. Washburn, III.
A memorial service will be held Wednesday, Nov. 3 at Dogwood Church in Tyrone, GA. The family will receive visitors between 10-11 a.m. followed by the service at 11 a.m. with Dr. Keith Moore officiating.
Memorial donations may be made to the Real Life Center (reallifecenter.org) whose mission Marie faithfully supported, or by the gift of a contribution to the library of your choice.