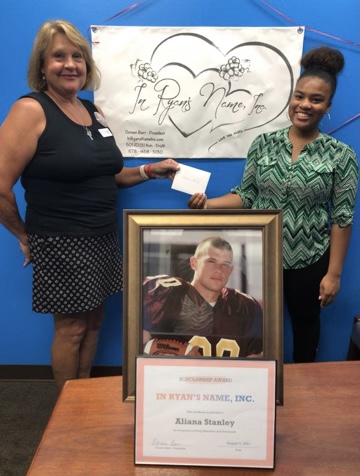 In Ryan's Name Inc., a 501(c)(3) nonprofit foundation whose mission is drug
education, awareness, and prevention, is proud to announce its first annual
scholarship award. The foundation is in memory and honor of Ryan Barr, an
honor graduate of Starr's Mill High School 2004. Ryan passed away May 21, 2015,
from a fentanyl-laced drug. Ryan's mother, Doreen Barr, started In Ryan's Name,
Inc. in 2019. Her goal is to educate youth, parents, grandparents, school
administrators, teachers, coaches, and business owners about the dangers of
drugs. FAKE drugs are FATAL! According to the CDC, an average of 256 people per
day died from an overdose in 2020, which is an annual increase of 30%. The
overdose numbers reached 93,000 deaths in one year, 2020, many from fentanyl.
In Ryan's Name Inc. is excited to announce that Aliana Stanley has been
awarded their first annual scholarship. Aliana Stanley is a Junior at Spelman
College where she is pursuing a double major in Psychology and Political Science.
She graduated with an Associates of Arts degree in Integrative Studies from
Clayton State University in December 2020, and is a 2020 graduate of Whitewater
High School. Aliana has aspirations of attending the Georgia State University
College of Law.
Aliana has been a member of the Drug Free Fayette Coalition for three
years is Co-Team Leader for the Youth Action Team (YAT). As a YAT Team
member, she has participated in creating and distributing a Public Service
Announcement regarding the dangers of vaping, attended Substance Abuse
Prevention Advocacy Day for three consecutive years, and discussed vaping policy
change with Georgia State Representative Derrick Jackson.
Doreen Barr, president and founder of In Ryan's Name, Inc., and Co-Team
Leader for the Drug Free Fayette Prescription Drug Team, has personally worked
with Aliana through Drug Free Fayette during DEA Take Back Day. Doreen shares,
"Aliana is passionate about her work in the community. She consistently
volunteers her time to benefit the health and wellness of her peers. Aliana and I
have met on a personal level to discuss drug use in the youth of our community
and what we can do to provide education and awareness."
In Ryan's Name, Inc. has to date helped six Fayette County residents enter
rehabilitation, detox, or counseling for addiction. They feel honored to share
Ryan's story while trying to help other families dealing with addiction and
providing education and awareness.
For more information or to make a donation, contact In Ryan's Name, Inc. at
inryansnameinc@gmail.com, on Facebook, or call 678-468-5130.