The Rotary Club of Peachtree City was recognized as the Club of the Year by District 6900 for Category IV. The Club of the Year award recognizes clubs for Foundation Giving; Youth Program Services; Local, District and Global Service Projects; Social Media and Public Image; Club Participation; Membership Growth and Leadership.
While the club was chosen as Club of the Year Runner-Up several times (1994-95; 1996-97; 1997-98; 2001-02; 2006-07; 2007-08), they have only been selected as the winner 2 times previously – in 1993-94 under the leadership of the club's first female president – Mrs. Frances Meaders, and again in 1995-96 under the leadership of the club's only past president that also went on to become the District Governor – Mr. Bill McDonald.
This was a great accomplishment of the club and their leadership team as well as a special recognition for our community at large for all of the support of the many projects that were done over the last year.
---
Pictured (L-R Back): Pres-elect JD Holmes and wife, Varner: Past President George Martin and wife, Kelly; Past President Dale Phenicie; Rotarian Katy Spade; Past President Mary Chapman; President Adam Glendye; Past President Steve Ivory (kneeling) and wife Anna; Vice President Amy Benton; Secretary Mandy Timmons; Edgar Chapman (Husband of PP Mary)
Pictured (L-R Front): Rotarians Sam and Donna Chapman; Treasurer Patti Kadkhodaian; Membership Director Holly Davanzo; Past President Mike Nelson
---
In addition, past President Steve Ivory was recognized with a Sheffield Leadership Award.
This award was established in 1994 by the Rotary Club of Americus, Georgia to honor three Past District Governors (all from the same family and from the Americus Rotary Club) – John West Sheffield (1926-27), John W. Sheffield (1961-62) and Langdon Sheffield (1975-76).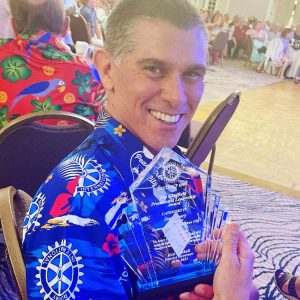 Ivory joins a group of other past presidents of the Rotary Club of Peachtree City who previously received this award as well: Bill McDonald (1995-96), Donna Turner (2001-02), Mary Chapman (2006-07), and Amy Leuenberger (2013-14). — Article provided by Rotarian Mandy Timmons.