SPONSORED FEATURE
After a year of working at ProHealth Physical Therapy and Pilates Studio in Peachtree City, Caitlin Forkin is settling into her new routines at Mercer University's Cecil B. Day Campus in Atlanta. As she begins completing the rigorous studies required to become a physical therapist, her colleagues at ProHealth are cheering her on. 
Caitlin grew up in Peachtree City, homeschooled by her parents from second grade through high school. She earned an undergraduate degree in biology, with a minor in physics, from the University of West Georgia in 2020. When she began exploring physical therapy as a career option as a sophomore in college, she reached out to Dr. Karyn Staples about opportunities to shadow the team at ProHealth.
"I was looking to narrow down my major, just to make sure I was on the right track," Caitlin says. "I reached out to her because her clinic was really close to my house, and I'd heard very good things about the studio and ProHealth."
Karyn, who has incubated and nurtured twelve people who progressed from ProHealth Physical Therapy and Pilates Studio to physical therapy school,  welcomed another budding PT candidate with open arms. Caitlin followed alongside Karyn and the team at ProHealth over winter break in 2018.
"I enjoyed my time there shadowing and getting acclimated to what I could expect out of a future career in that field," Caitlin says. 
 She kept in touch with Karyn as she continued her undergraduate studies. Following a grueling last semester at UWG, where difficult classes and final exams were even tougher under pandemic conditions, Caitlin decided to take a year off before applying to physical therapy school.
"I was a little overwhelmed, and I didn't want to rush the GRE and applying to PT school because I know just how important that is."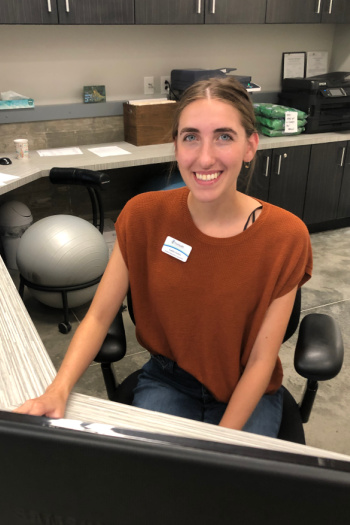 When she reached out to update Karyn on this decision, Karyn offered Caitlin the opportunity to fill a position at ProHealth, which was opening due to another team member heading off to Mercer to become a physical therapist. 
"The timing was just perfect," Caitlin says. 
When Caitlin shadowed Karyn and other therapists while an undergraduate, the team showed her what to expect when working as a physical therapist. But when she started working as a patient experience specialist at the front desk, she gained a different perspective.
Seeing the life-changing interactions between patients and the team at ProHealth affirmed her career decision. The way the therapists encouraged patients, their willingness to help them do things they thought were impossible appealed to Caitlin. She saw patients come in as a result of extremely unfortunate circumstances–amputees, for instance–who thought they'd never walk again.
"They come in thinking, 'Oh, I'll never be able to walk again. I won't be able to do this. My life is totally turned upside down. Nothing will be normal again.'"
Watching physical therapists interact with these patients, helping them have hope and confidence in achieving what they thought was impossible or unattainable, profoundly impacted Caitlin.
"You could see the release and the Eureka feelings on the patients' faces," she said. "From my perspective, I'm like, 'Okay, I want to do that for somebody.' I want to be there for somebody who thinks there's nothing left to gain from care from a physician. I want to give them hope and belief in their abilities."
Aside from the emotional and caring rewards of the job, Caitlin enjoyed realizing that physical therapists can help people move properly, correcting body mechanics that could affect them negatively twenty or twenty-five years down the line. She appreciated knowing that she could help people achieve a better way of life, get back to work, or resume their daily routines.
Behind the scenes, the team at ProHealth Physical Therapy and Pilates Studio provided invaluable direction as she prepared for graduate school.
"They were able to guide me in what to include in my essays and things to focus on when I actually start school," she says.
Her colleagues offered advice on classes and how to seek help from teachers and peers and provided a general idea of what to expect at school. From where to get an apartment to what to expect from the first semester to offering mental health strategies for handling the overwhelming changes and workload, they were Team Caitlin all the way.  
"Make sure you ask for help and take breaks," they told her. 
"Each of them offered a different perspective, too, because they all come from different backgrounds in different schools," Caitlin says. "Some of the younger PTs, and even everybody at the front desk, too, were extremely helpful in helping me pursue this properly and confidently."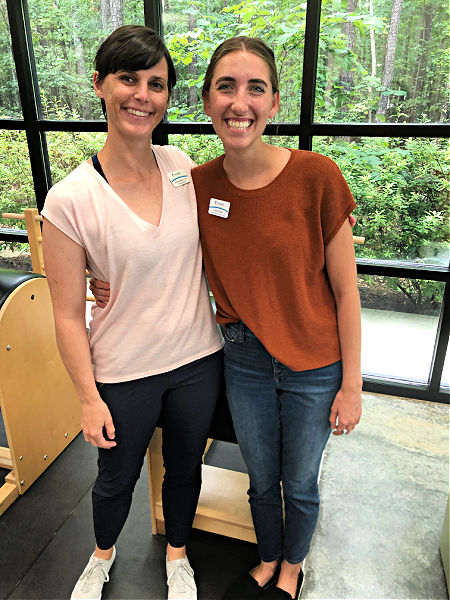 All along, Karyn offered expertise and encouragement, too.
Caitlin is grateful for the job that bridged the gap between hopes and dreams and reality. She praises Karyn for her wealth of knowledge but appreciates her encouragement most of all. 
"The belief in me, in the position, allowing me to observe when I shadowed and then even hiring me and allowing me to have that different perspective," Caitlin says, "… this was the biggest encouragement."
As a mentor, Dr. Karyn Staples appreciates the opportunity to invest in the future.
"I have such a passion for physical therapy as a profession, as my profession," Karyn says. "I truly love what I do. It is an honor to share this profession with others and to have them find the same passion."
"Working with people can be challenging, but seeing them improve and succeed to feel better and be better is the reward. Having the future of the physical therapy profession be exposed to an environment that is positive and encouraging is what I strive for."
About ProHealth Physical Therapy and Pilates Studio
ProHealth Physical Therapy and Pilates Studio was founded in 2005 by Dr. Karyn Staples, PT, PhD, NCPT. She leads a staff of more than a dozen physical therapists, Pilates instructors, and office support staff in providing effective research-based therapies and exercise.
ProHealth is located at 1777 Georgian Park in Peachtree City. For an appointment for physical therapy, call 770-487-1931.
If Pilates exercise is something you would like to explore, private lessons and classes are available throughout the week at ProHealth. Call or visit https://prohealthga.com/schedule.