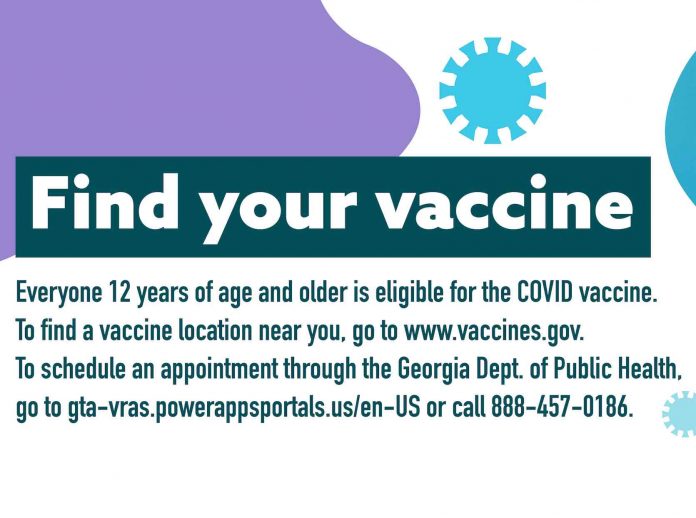 Fifteen of Fayette County's 24 public schools were under a face covering mandate as of Thursday, Aug. 19, according to Melinda Berry-Dreisbach, the school system's public information officer late Thursday afternoon.
The mandatory masks for all staff members, students and visitors included two of the county's five high schools — McIntosh and Starr's Mill — and three of its five middle schools — Flat Rock, Bennett's Mill, and J.C. Booth.
Of the county's 14 elementary schools, 10 are under masking mandates to mitigate the spread of the highly contagious delta variant of the Covid-19 virus. The list is below in this story.
New cases of Covid-19 Thursday hit numbers not seen since the winter surge in Fayette and across the state, according to data from the Georgia Department of Public Health.
The day-to-day increase statewide exceeded 7,000 new confirmed cases, DPH reported, bringing the state pandemic total to 1,012,809 cases. Fayette registered a one-day increase of 70 new cases, with a new pandemic total of 7,637 cases. State deaths increased by 44 in one day, while the Fayette fatality number held at 164.
The closely-watched 2-week positivity rate for new test-confirmed infections rose to it highest in months: 504, which brings the 2-week percentage to 4.6%, still the second lowest in the state.
Vaccinations are slowly moving up in Fayette, and the school system is urging all unvaccinated persons over age 12 to get their shots. Here's what the system said Thursday:
Find your vaccine
As the country continues to battle Covid-19 and the rising delta variant, it is more important than ever to get vaccinated.
Statewide, just 49% of Georgia residents have received at least one dose of the Covid-19 vaccine, and 42% are fully vaccinated. Fayette County is currently ahead of that pace, with 60% of residents receiving at least one dose and 54% fully vaccinated, but there is still much work to be done.
Everyone 12 years of age and older is eligible for the Covid vaccine, and there are many resources available to schedule your vaccine shot.
To find a vaccine location near you, go to www.vaccines.gov.
To schedule an appointment through the Georgia Dept. of Public Health, go to gta-vras.powerappsportals.us/en-US or call the Health Department Vaccine Scheduling Resource Line at 888-457-0186. The resource line is open Monday-Friday 8 a.m.-8 p.m and Saturday-Sunday 8 a.m.-5 p.m. Languages other than English are available.
For more information on the Covid-19 and the vaccine, including daily stats and testing updates, go to dph.georgia.gov/Covid-vaccine or call 888-357-0169.
Here's the list of all 15 schools:
Spring Hill Elementary
Huddleston Elementary
Crabapple Lane Elementary
Kedron Elementary
Robert J. Burch Elementary
Cleveland Elementary
Inman Elementary
Sara Harp Minter Elementary
Peachtree City Elementary
Braelinn Elementary
Bennett's Mill Middle
J.C. Booth Middle
Flat Rock Middle
Starr's Mill High
McIntosh High