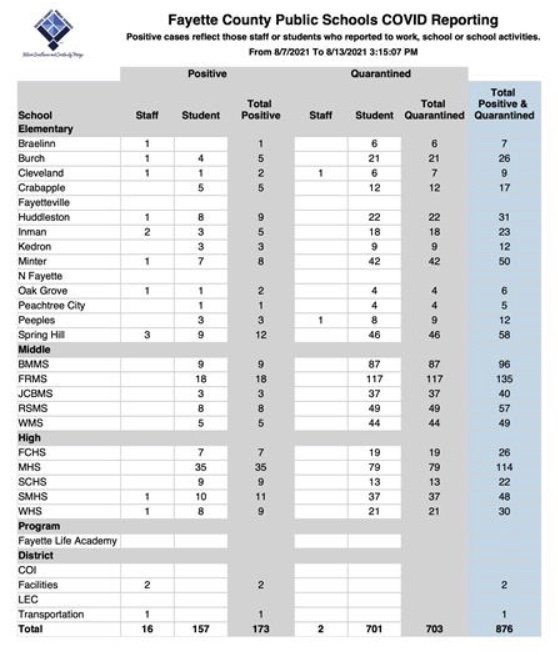 Cases picking up across Fayette also — 
Rising Covid infections across the Fayette County School System have pushed 4 schools to mask up, according to the system's Public Information Office.
McIntosh High, Flat Rock Middle, Spring Hill Elementary and Huddleston Elementary have all switched to mandatory masking policies for all students, teachers and support staff, confirmed Chris Dunn, public information specialist.
The authorization to go to mandatory masking came from Superintendent Dr. Jonathan Patterson, Dunn said.
Increasing numbers of quarantined students have brought remote learning back into use as well, Dunn said.
McIntosh had the biggest Covid outbreak: 35 new cases among students just this week, resulting in 79 students quarantined for exposure to the highly contagious virus. Masks went mandatory Thursday. 
Flat Rock Middle had 18 new student cases, but at both the high school and the middle school, no new cases or quarantines were reported among teachers and staff.
Another 117 Flat Rock Middle School students were exposed and had to be quarantined. Masks are now required for all who enter the building.
Spring Hill Elementary reported 9 students and 3 staff members infected, with 46 students sent home for quarantine, the system tally showed.
Huddleston Elementary had 8 student cases and 1 staff member infected, resulting in 46 students quarantined, the weekly report showed. Masks are now required at both elementary schools.
Going by the reported numbers, mandatory masking may be coming next for Starr's Mill High, which tallied 19 students cases and 1 staff member, with 37 quarantined students.
The total for the second week of school was 16 staff members and 157 students with confirmed cases of Covid — a total case number of 173. In addition, at least 2 staff members and 701 students had to be sent home for 10-day quarantines. The student numbers by themselves would fill a standard-sized elementary school.
No trigger number of new infections has been set for any school, Dunn said, but noted that elementary schools have smaller populations than middle and high schools. In all such cases. Dr. Patterson would make the call to go to mandatory masks, Dunn said.
The superintendent had said at a recent school board meeting that while the system would start out with optional masking, the decision to require face coverings would be determined on a school by school basis.
With Covid cases rising, more schools may be in the mandatory masking column by this time next week.
Meanwhile across the county, Covid cases are rising — 202 new cases since Friday, Aug. 6, according to figures from the Georgia Department of Public Health. New case levels averaging nearly 29 cases a day haven't been recorded locally since the December-January surge 7 months ago. One new Covid-caused fatality was reported, bringing the county death toll to 164.
As of Friday morning, 59,753 or 53% of Fayette residents have been fully vaccinated, DPH reported. Another 7,363 residents have been confirmed to have had Covid cases since the pandemic started in March 2020.
Fayette's 2-week new infection rate still ranks the lowest in the state at 3.3%, or slightly over 3 persons for every 100 tests administered, although that number looks likely to rise.
For comparison, neighboring Coweta County has a 2-week rate of 21.4%, close to the January surge peak, while the entire state has a 2-week rate of 15.5%.