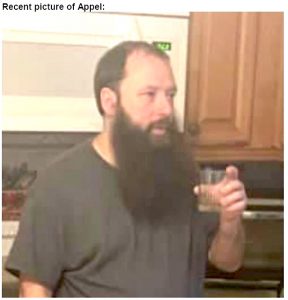 UPDATED JULY 26 — Child molestation suspect James Appel took his own life Sunday when approached by law enforcement officers in Minnesota near the Canadian border, Fayetteville Police reported July 26.
Appel, 34, was wanted in connection with a case of child molestation in Fayetteville that was reported on July 20. When Appel learned police were seeking to arrest him, he fled the area.
The sheriff's offices of Fayette County and Rabun County assisted in the search for Appel in Georgia, and the U.S. Marshal's Southeastern Regional Fugitive Task Force assisted as well, helping to locate the suspect in the area of Rainer, Minnesota.
The Koochiching County, Minnesota Sheriff's Office with the assistance of other local and federal law enforcement officers located Appel at the end of a dirt road. When law enforcement officers approached Appel's vehicle, they reported hearing the sound of a single gunshot inside the vehicle. Appel was found deceased with a self-inflicted gunshot wound.
"Our thoughts and prayers are with the victims and families involved in this case," said Police Chief Scott Gray. "We also want to thank all of the law enforcement agencies that assisted us as well as the Griffin Judicial Circuit District Attorney's Office."
This case is still under active investigation, and detectives continue to follow up on additional information.
=============================
PREVIOUS STORY — 
The Fayetteville Police Department is asking the public to help locate 34-year-old James Appel, who is wanted in connection with an alleged child molestation incident.
Appel is 5'6″ in height and weighs 150 lbs. He has brown hair and hazel eyes, and is last known to have a long beard.
Anyone who sees Appel or knows his whereabouts is asked to contact 911 immediately with that information. Appel is considered armed and dangerous, so the public is asked to not approach him. He may be armed with a handgun and possibly an AR-15 style rifle.
Appel is thought to be traveling in a gray 2019 Volkswagen Tiguan. The vehicle is registered in Georgia with tag RXL 3095, but it may also have a temporary Alabama tag with an unknown registration number.