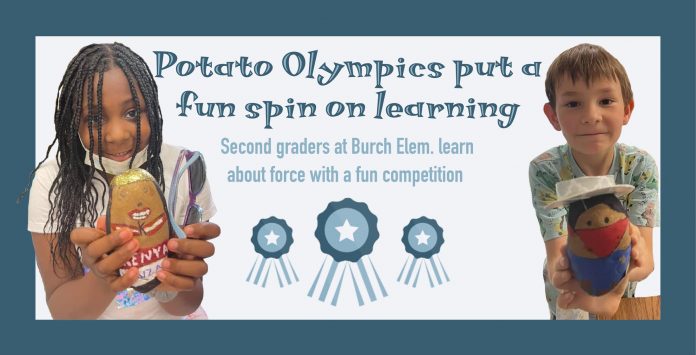 For the second graders at Robert J. Burch Elementary, lessons on force weren't garden variety, but they did involve vegetables from a garden. Potato Olympics helped make the lesson one students won't soon forget.
To cap off their science unit on force, all second grade students got to "coach" a potato athlete to compete against classmates in their homeroom. They each picked out a potato and gave them a backstory, including name and country of origin, before coaching and controlling their potatoes as they participated in Olympic events like long jump, diving, bowling, and relays.
"We talked about the effect of pushes and pulls and how we, as coaches, affect our potato's speed and direction of rolling," said second grade teacher Savannah Lane. "The students demonstrated their measurement skills by measuring the height and girth of their potatoes, as well as the distance their potatoes rolled for events like the long jump. The students showcased their narrative writing skills as they wrote about training regimens and their potato's background story on a biography page."
It was all a big hit.
"The students (and teachers) LOVED the Potato Olympics," said Lane. "The decorated potatoes and biographies showcased student creativity. The students laughed together, encouraged one another, and applied their learning from the year in one fun Potato Olympics day."