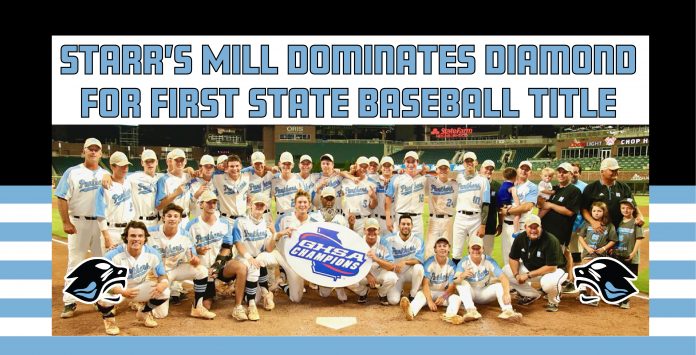 For many years, Starr's Mill has ranked among the state's elite baseball programs, but the top prize always eluded the Panthers until now. On May 25, they swept the Loganville Red Devils in a doubleheader to clinch the program's first-ever state baseball championship.
Truist Park, home of the Atlanta Braves, was the site as the Panthers put on a dominant display that would make a Major League club proud, winning game one 1-0 and game two 4-2, eliminating the need for a game three in the best-of-three series.
The Panthers had been close several times, finishing as runner-up once and reaching the semifinals five times. Last year they were on the roll when Covid-19 cancelled the campaign. Standing in their way this year was Loganville, who was in search of their fourth-straight championship, but the Panthers silenced their potent bats.
"Winning the trophy was a little relief, and, at the same time, we're trying to enjoy the moment," said Starr's Mill coach Brent Moseley. "I think we would have had a chance last year had we been able to play."
Chay Yeager pitched a gem in game one, allowing just 2 hits and striking out 8 over 7 innings.
They got all the offense they needed in the 3rd inning with a two-out RBI double by Thad Ector to score Evan Harrah. Yeager did the rest with his complete-game shutout.
In game two, it was Ector again jump-starting the offense. He singled on the first pitch he saw, stole second base, and moved up on a throwing error. Josh Tate drove him in for a 1-0 lead in the 1st inning. They added to the lead in the 3rd inning as Eli Jones plated Yeager.
Loganville tied the game at 2-2 in the 4th, but Starr's Mill pulled back ahead in the top of the 5th. Pinch hitter Alex Ukleja's double made it a 3-2 game, and they scored another run in the 6th on a wild pitch and a throwing error.
Daniel Courtney went the distance in game two, striking out 4 and allowing 4 hits over 7 innings.
"Pitching was really good, and we kept them off the base paths, which is how they put pressure on you," said Moseley. "We had some timely hits, especially from pinch hitter Alex Ukleja."
The championship marks the first for a local team since Fayette County High won the crown in 1964. — By CHRIS DUNN, Fayette County School System public information specialist