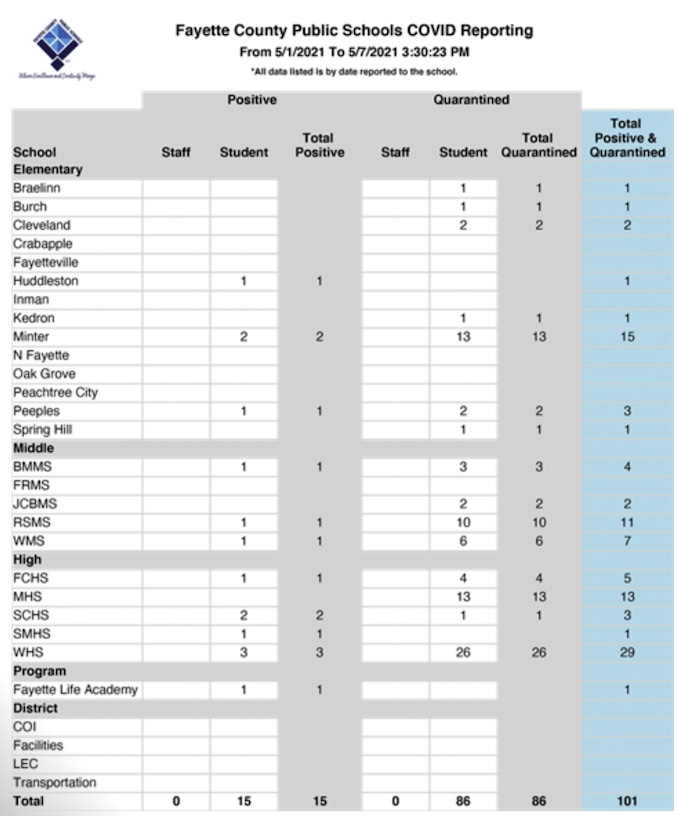 New infections at lowest level in many months; 15 new cases in Fayette schools last week — 
The number of new Covid-19 cases confirmed by testing in Fayette County has now fallen to 1.6%, the lowest 2-week level in many months, according to the Georgia Department of Public Health report May 9. That's fewer than 2 confirmed cases out of every 100 people tested.
Meanwhile, in local public schools, the new Covid infections reported last week has fallen to 15, all students. And for the first time in weeks, no teachers or school staff members are in quarantine, according to the system report covering May 1 through May 7 (see chart above).
Fayette has recorded 60 new cases since May 1, DPH reported, with no Covid fatalities so far in the month of May. In addition, hospitalizations for local residents total 6 so far in May, bringing the total number of residents admitted for treatment in the past 14 months to 263.
The numbers statewide are trending downward as well, with just over 4,500 new cases reported since last Monday (see chart below). That's an average of about 753 new cases a day across Georgia's 159 counties. Georgia pandemic deaths are a confirmed 17,701, with another 2,666 fatalities suspected of being Covid-related, for a total death toll of 20,367, DPH reported May 9.