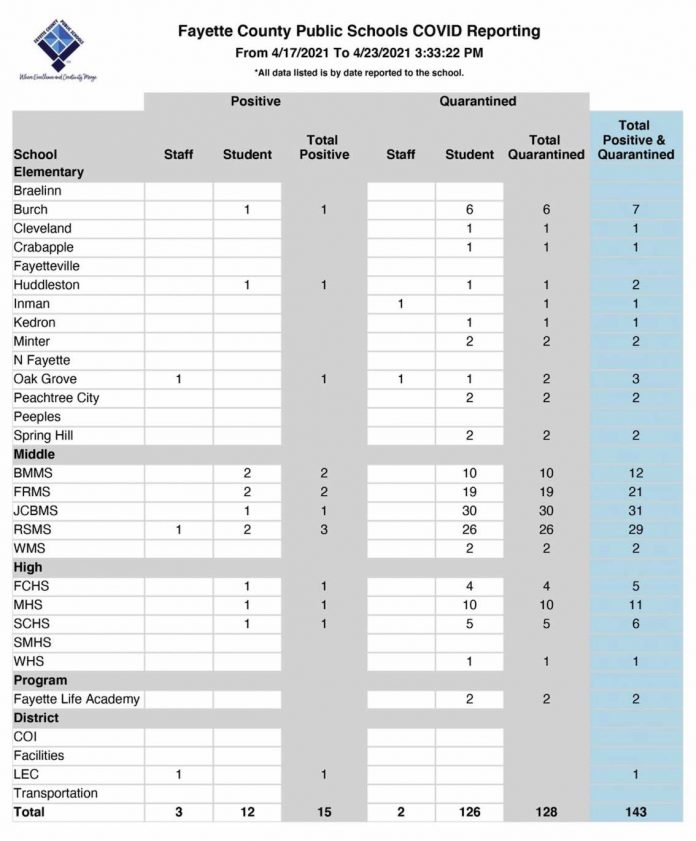 Fayette middle schools proved to be the relative hot spots for the Covid-19 infection last week with 7 new student cases and one new staff case reported in 4 of the 5 middle schools, afor a case total of 8, according to the system's weekly report. Whitewater Middle was Covid-free last week.
Burch and Huddleston elementary schools reported 1 student case each, and Oak Grove had one employee case, for a total of 3. The other 11 elementaries were Covid-free, the system said.
Only Starr's Mill and Whitewater reported no new infections among the 5 high schools last week. The other 3 had 1 student case each.
The 15 new cases were part of the 143 quarantined persons, a sidelined group that came from all but 5 of the 24 system schools. The schools with no cases and no quarantines were Braelinn, Fayetteville, North Fayette, and Peeples among the elementary schools; and Starr's Mill High alone among the upper grades.