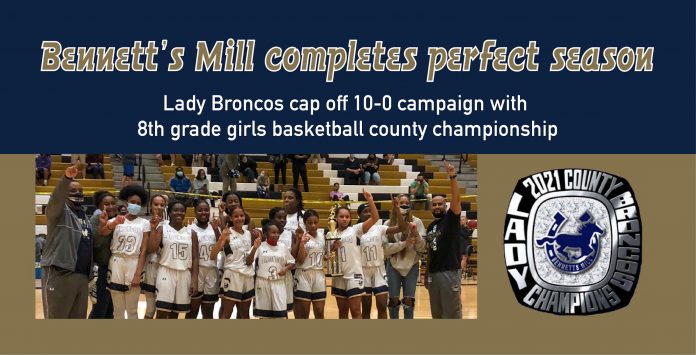 The Bennett's Mill Broncos are the best 8th grade girls basketball team in the county, and they finished with a flourish. On March 4, the Broncos completed an undefeated 10-0 season to claim the county championship.
The championship Broncos are Andrea Hope, Micayala Walker, Delya McCoy, Kylah Hall, Anaree Davis, Kaely Ferrell, Megan Ohonde, Kiahla Ferrell, Alyssa Reed, Alana Sparks, Janiyah Farmer, and Anaya Ferguson, with managers Kristen Brooks and Aniyah Springer. The team was under the leadership of coaches Troy Merritt and Sheldon Bliss.
Last year, the Broncos lost in the semifinals, and they came back determined to win this season.
"Several of our returning girls stayed active in the offseason by continuing to play basketball in competitive leagues, attending camps and clinics, and, for some, just simply training to be in shape for the upcoming season," said Bliss. "All of their efforts and hard work in the offseason paid dividends once we assembled our team and started practicing and preparing for the season. This was truly our year."
They were a team on a mission.
"After our first few games and the large margins of victory, I knew we were going to be the team to beat this year. My message to the girls was always, 'One game at a time.' They bought into this philosophy and got better offensively and defensively with each game," said Bliss. "I knew we were good but when we looked up and we had gone 8-0 in the regular season, I knew this team was special. I couldn't have been more excited for the girls to bring home the trophy and do so with a perfect season."
The perfect season is the first time a Bennett's Mill or Fayette Middle team, boys or girls, has finished a campaign with no losses.