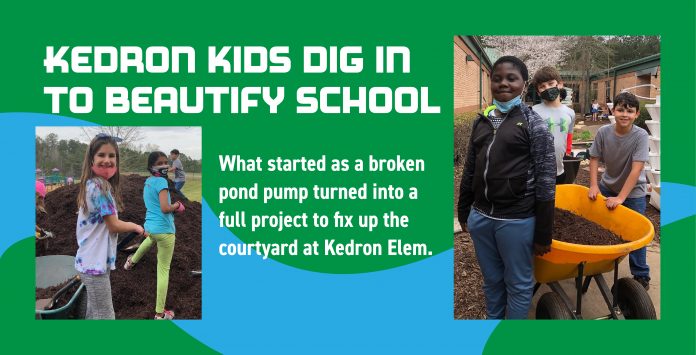 They saw a problem, and they found a solution. Students in Angela Thompson's enrichment classes at Kedron Elementary didn't mind getting their hands dirty to fix up the school's courtyard.
Thompson teaches her students leadership skills, and they got the opportunity to put them to the test when they realized the pump in the courtyard's pond had died, leaving the pond a mess.
"Sometimes leadership is about taking care of a need," said Thompson. "Somebody needed to fix it, and we decided we were going to fix it."
Clearing away roots and getting the pump in order was just the beginning.
"Once we got the pond cleaned out, the kids said we needed to refresh the whole courtyard."
The classes wrote letters to their principal and the PTO asking for funds to add mulch and redo rocks around the drainage system so it would flow properly. They received the needed support and got to work mulching and planting flowers, beans, and squash as part of the project to fix up their courtyard. They learned how to work together to make things easier and how to manage time to get it all done before rain might move in.
Principal Jamie Voorhies was thrilled to see her students stepping up for their school.
"What I love most about the project is that it made connections to social emotional learning with the growth mindset and extending grade level standards. The students had the opportunity to actually apply real life applications to grade level standards and not only create a plan, but implement the plan," said Voorhies, noting that they will have a ribbon cutting after spring break to celebrate their accomplishments. "Our goal at Kedron is truly to provide learning that the students will be able to carry with them and apply later in life, and I believe this project will truly be something they remember forever."