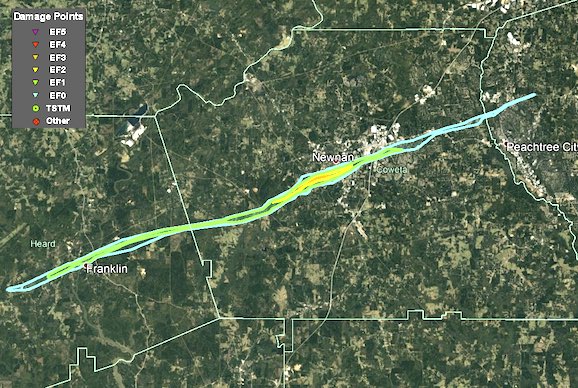 The National Weather Service office in Peachtree City conducted a detailed aerial and ground investigation of the aftermath of the powerful tornado that dealt Newnan and Coweta County a major blow during the night hours of March 25 and March 26. The following is that official report:
A violent, EF4 tornado that tracked 39 miles across Heard, Coweta and Fayette counties first formed near Redland Drive north of Ga. Highway 34 in Heard around 11:37 p.m. with only minor damage to trees. 
The tornado traveled east-northeast, gradually gaining intensity and producing more widespread damage to trees and power poles on Hwy. 34 1.3 miles west of Franklin.
The tornado grew in size and strength as it entered Franklin and crossed the Chattahoochee River with winds around 130 mph and a path width around 850 yards or 1/2 mile.
Damage in Franklin was extensive with several homes heavily damaged or destroyed. Two homes had roofs blown off completely, and a large stand of pine trees was completely snapped or uprooted on the north side of Franklin. A large wall and roof of a large industrial building on Mary Johnson Drive were ripped off. The tornado continued east-northeast south of Hwy. 34 and crossed into Coweta County around 11:54 p.m.
---
---
The tornado gained strength as it moved along JD Walton Road north of Smokey Road, then traveled along Smokey Road with trees falling on some homes.
Intensity increased to EF2 levels again near the Mountain Creek and Woodlawn Farms neighborhoods near where Smokey Road intersects Fields Road and Holbrook Road.
Winds quickly increased further to over 150 mph (EF3 intensity) near Timberland Trail south of Smokey Road. Many homes had major damage and one home had all but the back wall collapse. The family survived with no injuries by taking shelter in their bathtub.
The tornado crossed Smokey Road and Belk Road and reached its maximum intensity of 170 mph as it entered the western city limits of Newnan. One home at the end of Fairview Drive had all exterior and interior walls removed. Four homes along Arlington Court north of Lagrange Street were destroyed with one having all exterior and interior walls removed but leaving a yellow vehicle nearly untouched in the garage. The path width at this point was approximately 1,850 yards or just over 1 mile.
As the tornado moved east of Boone Drive, it directly struck Newnan High School and surrounding athletics fields causing broken windows and doors and extensive roof and structure damage. The original high school building was built in 1888 with brick walls and sturdy stone and woodwork, yet the only wall failure was to a portion of the second-story brick wall near the front of the main campus building.
While the tornado did appear to weaken from this point onward, it continued into the southern part of downtown and passed directly over the county Justice Center and adjacent administrative building which houses the courts, 911 facility and many other government functions. Extensive roof and window damage and some interior wind and water damage occurred at the facility.
Numerous homes continued to receive damage from winds and falling trees as it moved east-northeast, crossing East Broad Street and Grieson Trail with 120-135 mph maximum winds.
The tornado became weak as it crossed I-85 and only caused minor damage to trees and businesses on the southern end of Ashley Park and a cancer treatment hospital.
However, the tornado reintensified near the Windsong and White Oak neighborhoods near Shenandoah Boulevard and White Oak Drive just east of the Newnan city limit, with maximum winds of 120 mph.
As it continued east-northeast, it weakened again but still produced damage to trees and power lines, some falling on homes as it crossed Sullivan Road and Lora Smith Road and passed over the Thomas Crossroads area.
In neighborhoods south of Andrew Baily Road north of Hwy.34, several homes had damage from falling trees. The tornado weakened further with more sporadic damage to several trees as it crossed Fisher and Minix roads into Fayette County.
After the tornado crossed into Fayette County and northern Peachtree City, it snapped a few trees near MacDuff Parkway where homes were being constructed. Portable restrooms and other light construction materials were blown away or blown down.
A few trees were downed on CSX railroad near Senoia Road and along Ga. Highway 74 near Kedron Drive. Large trees blocked the entrance to the Kedron Hills neighborhood at Loring Lane and Peachtree Parkway.
The tornado finally lifted near Astoria Lane at the northeast end of Kedron Hills in Peachtree City around 12:30 a.m., making the total path length 39 miles and lasting 53 minutes.