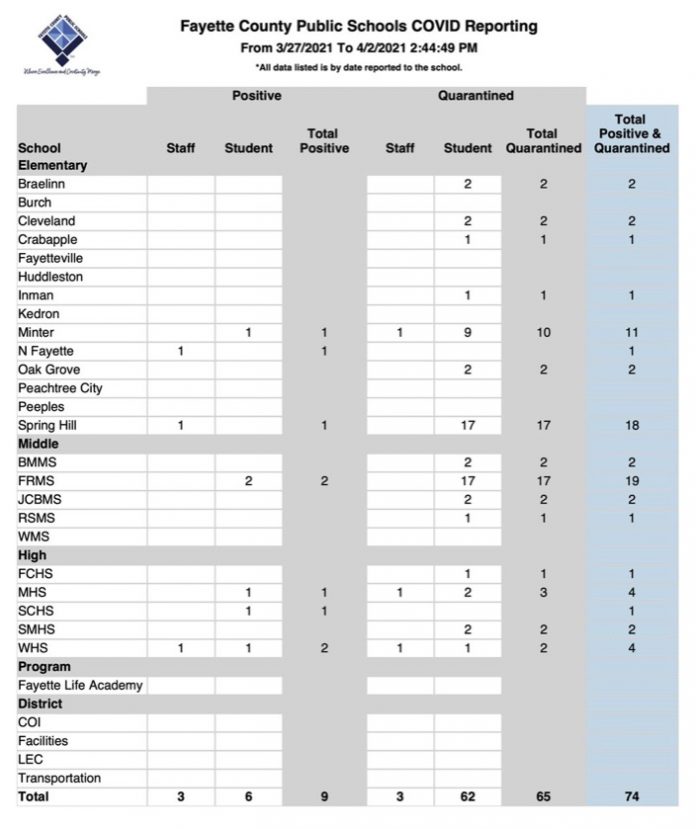 After a mini-surge in Covid-19 cases the week before, Fayette County schools saw an equally rapid drop in new cases and quarantines last week, with 17 schools reporting no new cases.
From 25 new cases the week before, the new cases total dropped to 9 for the week from March 27 through April 2, according to figures compiled by the school system. Likewise, quarantine numbers fell from 175 the previous week to 65 for last week.
The report shows 3 school staff members and 6 students tested positive for the coronavirus infection last week.
Whitewater High School had 1 teacher and 1 student test positive last week, the only school to have both a staff member and student infected. Both Sandy Creek High and McIntosh High recorded 1 student infection each. Flat Rock Middle School had 2 students test positive. Minter Elementary reported 1 student infection, while North Fayette Elementary and Spring Hill Elementary had 1 staff member at each school listed as testing positive.
Without any new Covid cases were Starr's Mill High and Fayette County High, 4 middle schools, and 11 elementary schools.
At the same time, 2 schools had double digit quarantines — Spring Hill Elementary with 17 students in quarantine, and 17 students at Flat Rock Middle School.
Without any quarantines of either students or staff were 9 schools.
All schools were observing spring break this week, April 5 through April 9. Last day of school is May 28.