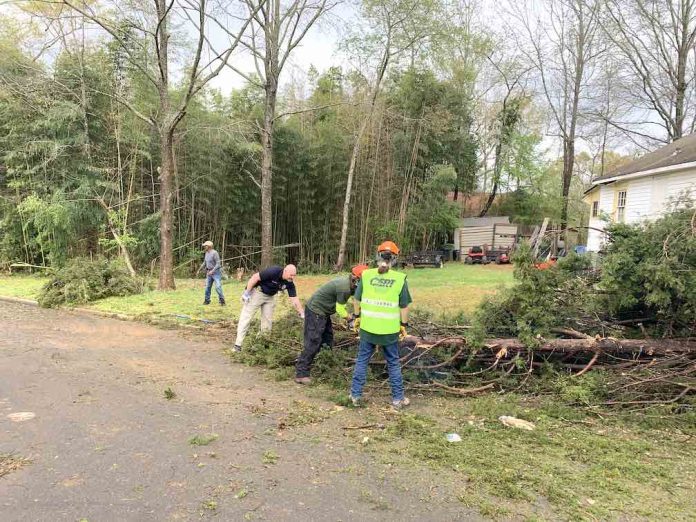 UPDATED — What was being called a F4 to F5 tornado on TV coverage slammed the area around Newnan High School with heavy damage and along Ga. Highway 34 in Sharpsburg but passed over Fayette County, with only power outages mainly in the Tyrone area reported this morning, according to Fayette County Sheriff Barry Babb.
Fayette had no reports of injuries or major damage, Babb said Friday morning.
"We're all good except for power outages," Babb said. "There was a little bit of wind damage, and Tyrone [area] lost power."
That was not the case for Newnan and Coweta County to the west of Peachtree City. Babb said some of his deputies live in Coweta, and one had his home badly damaged and many trees fallen that blocked his driveway. "The Smokey Road area was hit hard," Babb said.
"All is well in Tyrone at the moment," Town Manager Brandon Perkins emailed Friday morning.
"Despite the apparent track of the tornado that touched down in our area this morning, there have been no reports of damage or injuries inside the jurisdictional limits of Tyrone so far today. We are extremely thankful for that!," Perkins said.
"Our neighbors in Coweta County, unfortunately, did experience extensive damage in some areas with injuries and at least one fatality reported. Our thoughts and prayers are with everyone affected by the storms and we are certainly hopeful that no additional injuries or fatalities are reported as the day progresses," Perkins emailed..
"The storm did affect internet and phone service at all Town offices, so we ask for patience if you're trying to get in touch with us. We are open, so you have the option of coming in if you need assistance with anything today and cannot get us on the phone. Alternatively, you can email us at info@tyrone.org and we will get your inquiry to the right person/department. 911 lines are operational if you have an emergency," Perkins said.
Members of law enforcement in Fayette County were dispatched to help in the aftermath of the Friday tornado, including the volunteer CERT team representing the Peachtree City Police Department one of whose members submitted the photos accompanying this story.
The Citizen is seeking photos and information about any storm damage. Email your photos to editor@thecitizen.com.