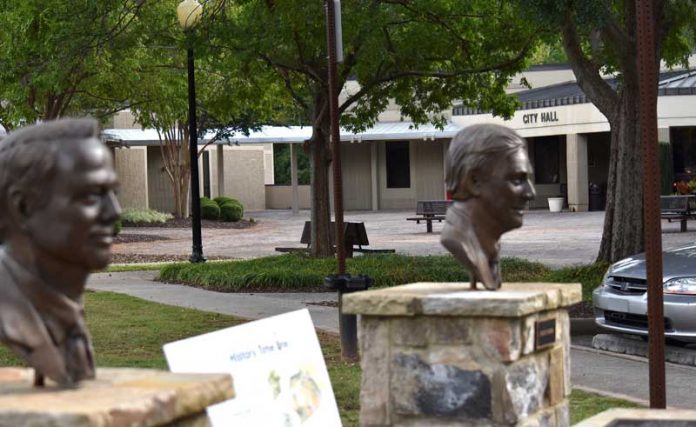 An application to rezone part of 20 acres in southwest Peachtree City for 308 apartments is off the table — at least for now.
Rezoning applicant Nathan Dockery has withdrawn the request for the City Council to authorize changing the General Industrial and LUC zoning on the Widget Drive property to a Limited Use Commercial zone.
That change would accommodate a first phase of eight 3-story buildings housing 10,000 square feet of retail space and the rest in what were described as 1-,2- and 3-bedroom luxury apartments with rents starting at $1,500 a month.
Future phases included a restaurant site and a larger commercial area. The property is just northwest of the Ga. Highway 74 South intersection with TDK Boulevard.
The plan drew a muted but unenthusiastic reception Feb. 22 from the city Planning Commission. The withdrawal of the rezoning request means the applicant can bring it back anytime in the future and go straight to a public hearing before the council. A denial by the council on the current proposal would have blocked the proposal from returning for a year.
Also on the Thursday night council agenda is a proposal to turn 22 city intersections into "smart" junctions, using radio signals to control traffic signals.
It's called connected vehicle program, with 80% federal funding and 20% local money — a total of nearly $185,000.
"This program involves installing radio equipment in traffic signal cabinets that will utilize the 5.9 GHz safety spectrum. This technology will provide the infrastructure backbone for many future enhancements. These enhancements include but are not limited to emergency vehicle preemption, pedestrian warning notifications, and congestion notifications," according to the council information packet.
First beneficiaries are likely to be the city's emergency vehicles — police, fire department and ambulances. Once the wireless radios are installed, activating a switch in the vehicle will cause all traffic signals along the path of travel to turn green for quicker, safer passage.
Another city purchase is likely to be two new golf carts as part of the city's efforts to teach teenagers how to more safely operate carts on the 100-plus-mile multi-use path system. The state grant of $20,563 will cover the cost of the carts and other safety course materials.
The meeting starts at 6:30 p.m. March 4 at City Hall. Social distancing is observed, but masks are optional.