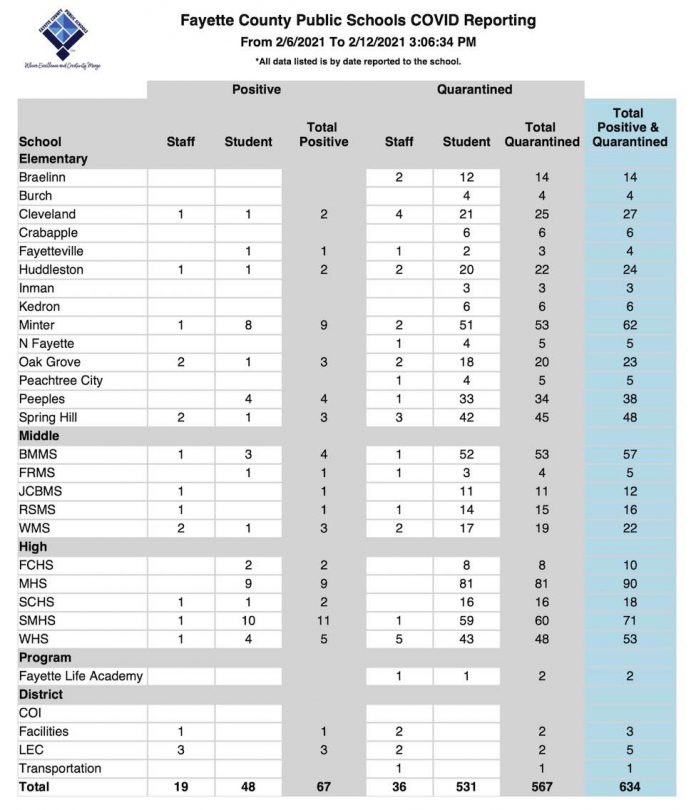 Covid infection increases among students at 2 high schools bumped up the number of new cases reported in the Fayette County School System last week, according to figures in the system's weekly report for Feb. 6 through Feb. 12.
Starr's Mill High School jumped from 2 students cases the previous week to 10 last week, and McIntosh High went from 3 cases the previous week to 9 cases this past week.
That helped to increase last week's number of new cases to 48 students and 19 staff members for a total of 67 new cases. That compares to 51 new cases the previous week — 34 students and 17 staff members.
The number of students forced into quarantine after Covid exposures also increased to 531 compared to the previous week's total of 436 — an increase of 95 students diverted from in-person instruction.
The total number of new cases plus quarantines among both students and staff members increased by 77 persons — 634 last week compared to 557 the previous week.
Schools with clean slates — no new cases among either students or staff — went down 1 to 7. This past week only elementary schools made that perfect mark: Peachtree City, Kedron, Inman, Crabapple, Burch and Braelinn.
Hardest hit schools based on both new cases and exposures resulting in quarantines were McIntosh High (90), Starr's Mill High (71), Minter Elementary (62), Bennett's Mill Middle (57), Whitewater High (53), and Spring Hill Elementary (48).