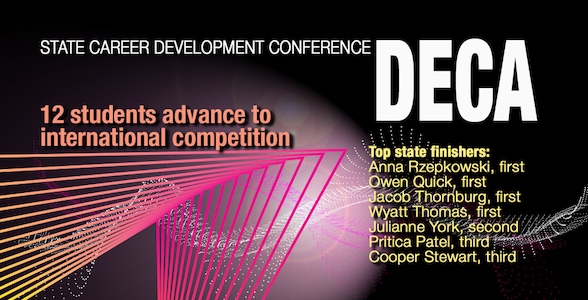 The competition format was different this year, but that didn't stop the Whitewater High School DECA Cats from giving an impressive performance at the Georgia Career Development Conference, and earning 12 spots in the International Career Development Conference that will be held virtually in April.
For the first time ever, students competed virtually among the best in the state in DECA's competitive events program.
Whitewater's students were at the top of their game with four of them finishing in the top three in the state and moving on to the international competition: Anna Rzepkowski, first place, Food Marketing; Julianne York, second place, Retail Merchandising; Pritica Patel, third place, Hospitality and Tourism Professional Selling; and Cooper Stewart, third place, Business Growth Plan.
Three students competing in the Virtual Business Challenge, an online business simulation, finished first in the state, placed in the top five in the southern region, and in the top 20 in the nation: Owen Quick, first in state, second in southern region, and seventh in the nation in the Virtual Business Challenge Retailing; and Jacob Thornburg and Wyatt Thomas, first in state, fifth in the southern region, and 17th in the nation for the Virtual Business Challenge Entrepreneurship. As a top two finisher in the southern region, Quick will advance to the international competition.
Students who also qualified for the international competition are Max Benoit and Sean Lezaj, Entrepreneurship Team Decision Making; Grace Deslaurier, Restaurant and Food Service Management; Mason Forsyth, Quick Serve Restaurant Management; Catherine Ling, Personal Finance Literacy; Bailey Mullis, Apparel and Accessories Marketing; and Mikaela Whaley, Hotel and Lodging Management.
DECA prepares emerging leaders and entrepreneurs in marketing, finance, hospitality and management in high schools and colleges around the globe. As an integral part of the classroom curriculum, DECA's industry-validated competitive events are aligned with the National Curriculum Standards, and directly contribute to every student being college and career ready when they graduate from high school.