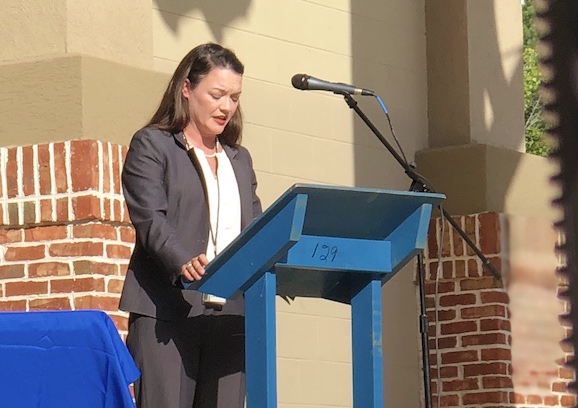 ELECTION FINAL 9:50 p.m. —  Appointed District Attorney Marie Broder of Griffin is now the elected district attorney after defeating her Democrat challenger Dexter Wimbish in the Feb. 9 special election by a 13,429 vote margin across the four counties of the Griffin Judicial Circuit.
The final unofficial tally was Broder, a Republican, with 73% (21,295 votes) and Wimbish, an attorney in private practice in Griffin, with 27% (7,866 votes).
Broder had worked as assistant D.A. for D.A. Ben Coker until Coker was appointed the newest superior court judge in the circuit by Gov. Brian Kemp early last year. Kemp then named Broder acting D.A. until he appointed her in June 2020 as Coker's replacement to fill out his unexpired term.
That came undone when the Georgia Supreme Court ruled that the governor did not have the statutory authority to extend the D.A. appointment for two years. Thus the call for the special election Feb. 9. Broder will now serve out Coker's unexpired term.
Broder is a native of Thomaston, the daughter of a cattle farmer and a special education teacher. She graduated from the University of Georgia School of Law and trained as a prosecutor in 2011 in eastern Georgia's Alcovy Judicial Circuit. She went to work for Coker in 2012 and has resided in Fayette County and now lives in Griffin, where her husband is a lawyer in private practice.
In her announcement for the election, Broder said why she was running: "This job is a calling; it is not a path to travel lightly," said Broder. "When victimized by crime, people feel as if they are robbed of their voice. It is the honor of my life to lend them mine."
========================
At 9:07 p.m., with all 36 Fayette precincts reporting (100%), D.A. Marie Broder leads Dexter Wimbish 69% (10,722 votes) to 31% (4,714).
Across the 4-county Griffin Judicial Circuit with 75% of the precincts reporting, the vote is Broder 73% (20,302 votes) to 27% (7,359 votes) for Wimbish.
=========================
With 28 out of 81 district-wide precincts reporting, D.A. Marie Broder has 75% (12,106 votes) to Dexter Wimbish's 25% (4,123 votes). In Fayette, with 17 of 36 precincts reporting (47%), Broder has maintained her lead — 69% (7,191 votes) — while Wimbish continues to trail with 31% (3,294 votes).
In the circuit, the early vote totals are overwhelmingly in favor of appointed incumbent District Attorney Marie Broder, the Republican in the 2-person race.
=========================
Earlier tonight:
The first returns in Fayette have Broder at nearly 66% (4,315 votes) while Democrat challenger Dexter Wimbush, a Griffin attorney in private practice, has 34% (2,233 votes).
Early vote totals from another county (not named on the state website) has the vote going mostly to Broder, with 88.5% of the vote (1,264 votes) while Wimbush has 11.5% (164 votes).
============================
Earlier story:
District Attorney election results here
Polls have closed and the vote tabulation process is underway in the four counties of the Griffin Judicial Circuit: Fayette, Spalding, Pike and Upson.
Appointed incumbent DA Marie Broder is being challenged by Griffin Democrat Dexter Wimbush.
Check this space tonight for results as they are reported from the four counties to the Georgia Secretary of State.