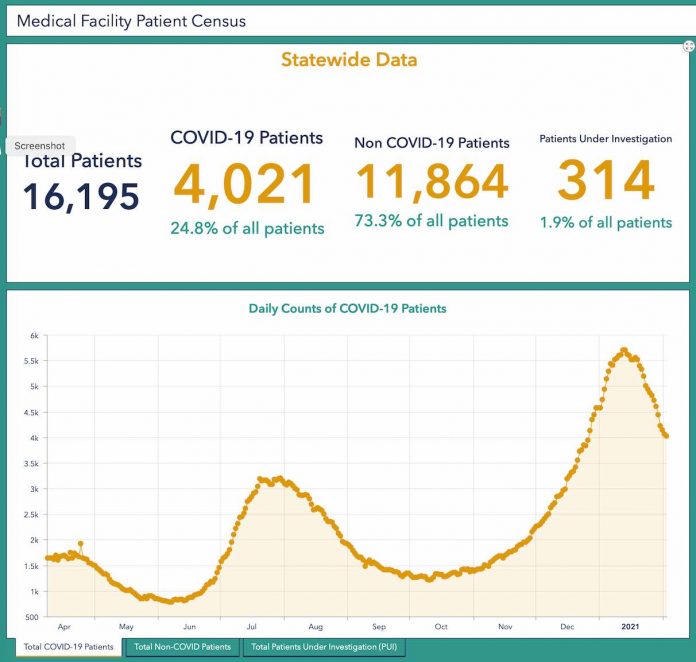 Fayette's new cases drop to 22, with under 10% 2-week new case rate —

 
The downward trend in new Covid-19 cases continued as Georgia recorded its third day in a row of 3,000 or under new test-confirmed infections. New cases were 3,000 on Jan. 31, 2,581 on Feb. 1 and 2,964 Feb. 2, according to the Georgia Department of Public Health's online tally.
Known as a trailing indicator, the state's Covid fatalities number remains high, with 159 reported Feb. 2. That ties the second highest 1-day death toll of 159 reported on Jan. 22, 2021. The record for one day is 170 on Jan. 19 this year. The cumulative death toll for the state is 12,772.
Fayette had 22 new cases Feb. 2 to bring the pandemic total to 5,202. DPH reported Fayette had 511 new cases during the past 2 weeks, for an infection rate of 9.7%, now under 10% for 4 days running.
Fayette deaths have held steady at 103 total for 4 days in a row now. The county's total number of Covid patients hospitalized since last March stands at 195.
Meanwhile, the state's total number of Covid patients in hospital beds as of Feb. 2 is 4,021, which is 73 fewer patients than 24 hours earlier. The state number of hospitalized Covid patients has fallen from a pandemic high of 5,717 occupying hospital beds on Jan. 13 down to its current level, which is 1,696 fewer Covid patients in the state's hospital beds.
The chart showing this dip in the number is at the head of this story.
The DPH chart showing the daily course of new cases from last March until this month is below.
For a daily record of the Covid-19 pandemic and its local numbers, click here.