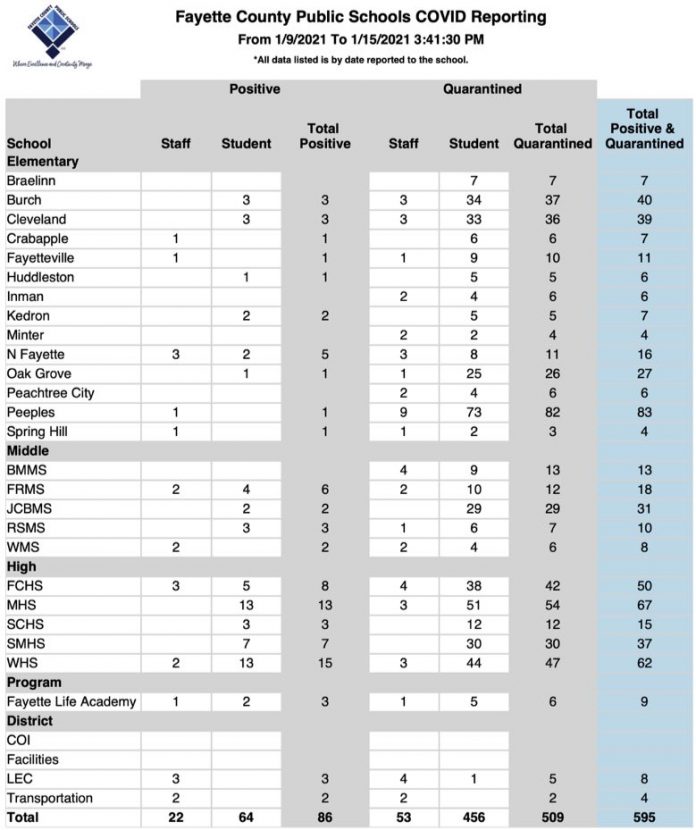 The past week in Fayette County schools saw 86 new cases of Covid-19 — 64 students and 22 staff members, according to the system's weekly report.
In addition, 509 remained in quarantine after contact with a confirmed case — 456 students and 53 staff members, the report showed.
The total sidelined by both infection and quarantine is 595 students and staff members as of close of the school day Friday, Jan. 15, the report said.
The two hardest hit schools with 13 new student cases each are McIntosh High and Whitewater High.
On the other side of the ledger, five schools celebrated a score of zero with no new cases among either students or teachers: Braelinn, Inman, Minter and Peachtree City among the elementary schools, and Bennett's Mill Middle School.
All schools in the system, however, have some in quarantine. Peeples Elementary has the most with 73 students and 9 staff members, followed by McIntosh High with 51 students and 3 staffers in quarantine.
The system has 24 brick-and-mortar schools: 5 high schools, 5 middle schools and 14 elementary schools.
The Fayette school system produces a school-specific report each week that tracks new cases and quarantine numbers among students and staff.