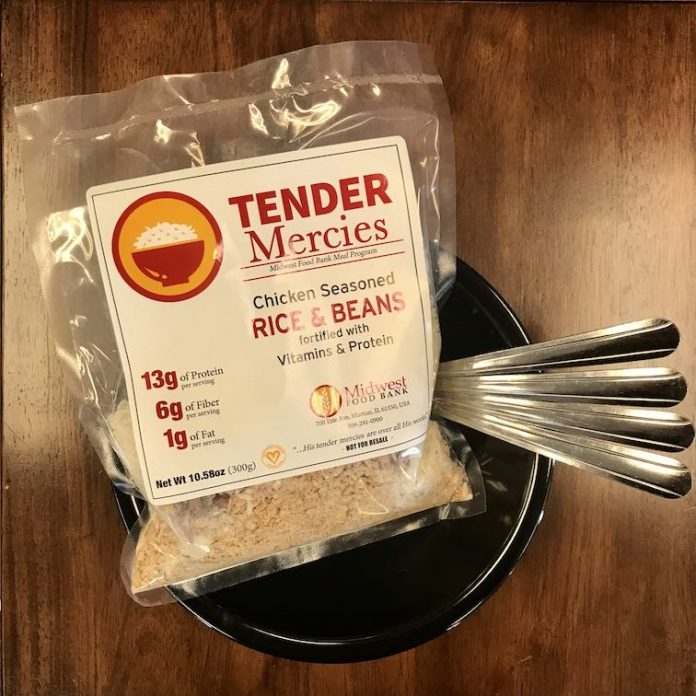 PEACHTREE CITY, GA, November 23, 2020 — Giving Tuesday 2020 is December 1, 2020, the Tuesday after Thanksgiving. This year, Midwest Food Bank is focusing Giving Tuesday donations on Tender Mercies meals. Tender Mercies is MFB's nutritious rice and beans meal. The goal is to provide 200,000 Tender Mercies meals to MFB's partnering nonprofit agencies.
Tender Mercies meals have been a vital part of the MFB Covid-19 and disaster relief efforts. 3.49 million meals have been packaged in 2020, up from 1.45 million meals last year. They are produced and packaged at the Morton, IL, division of Midwest Food Bank.
"Giving Tuesday offers a respite from the days of shopping following Thanksgiving." says Will Garner, Executive Director of Midwest Food Bank Georgia in Peachtree City. "It's an opportunity to refocus and think about the needs of others."
Visit midwestfoodbank.org for more information and to donate online. Midwest Food Bank is also accepting Giving Tuesday donations by mail.
Midwest Food Bank has 11 locations, including nine in the U.S., and one each in East Africa and Haiti. For more information about Midwest Food Bank Georgia, please visit our website at midwestfoodbank.org
Midwest Food Bank ("MFB") is a private, non-profit 501(c)(3) charity. As a faith-based organization, it is the mission of Midwest Food Bank to share the love of Christ by alleviating hunger and malnutrition locally and throughout the world and providing disaster relief; all without discrimination. Our vision is to provide industry-leading food relief to those in need while feeding them spiritually.