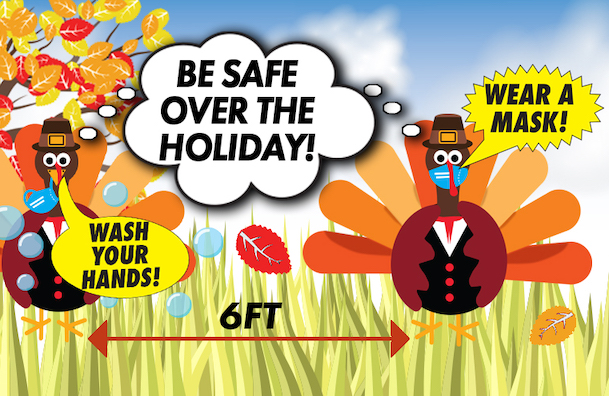 Celebrate Thanksgiving safely to prevent Covid spread: Keep our students in school — 
The Fayette County School System is asking for increased health precautions this holiday week so that schools aren't forced to shut down due to increased Covid-19 cases.
Here's what system Public Information Officer Melinda Berry-Dreisbach says the system is asking of parents:
"Holidays are one of the ways we celebrate the people and events that we care about. Each holiday is special and important, but holidays may need to look different this year.
"Fayette County Public Schools is strongly encouraging families and residents to choose lower risk Thanksgiving activities to reduce the likelihood of Covid-19 outbreaks in schools so that students can continue to have in-person learning.
"We have seen that having in-person learning provides a significant benefit for the academic, social, emotional, and physical wellbeing of our students and families, but sustaining it could be in jeopardy if precautions are not taken this Thanksgiving holiday.
"Covid-19 can easily spread from one person to another during traditional holiday activities where we gather for shared meals or rituals. There are many alternative options to celebrate Thanksgiving while also maintaining a lower level of risk. The school system highly recommends these Thanksgiving activities, which have been identified as lower risk by the CDC:
"· Having a small dinner with only people who live in your household
"· Preparing traditional family recipes for family and neighbors, and using contactless delivery to share them
"· Sharing recipes with friends and family and hosting a virtual dinner
"· Shopping online, rather than in person, the day after Thanksgiving or the next Monday
"· Watching sports events, parades and movies from home
"It is essential that we all work together to mitigate the spread of Covid-19 this holiday with the same determination that allowed us to successfully open our schools this fall. We all must follow the necessary protocols when out in public that have worked to provide a safe environment in our schools: wear a face covering, watch your distance, wash your hands, and avoid going out in public or being around others if you are sick.
"Our school families, community members, and you are important to us as we support health and safety precautions both within and outside of school. Thank you for your continuous support, flexibility, and demonstrated resilience during this unprecedented school year," Berry-Dreisbach said.