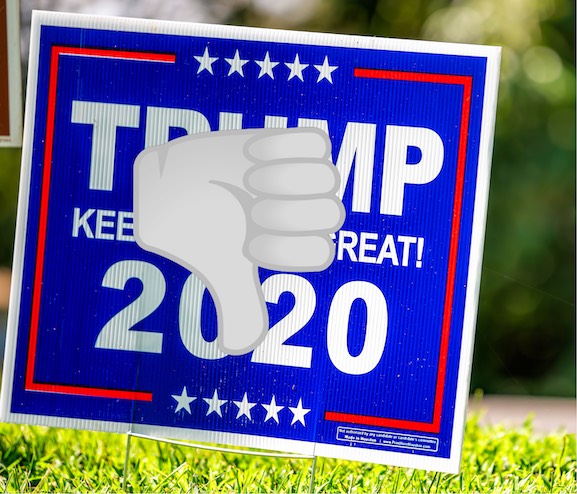 A DeKalb County man who thought he was "doing a good thing" by ripping a political flag off a vehicle at The Avenue in Peachtree City then driving over it several times was charged with disorderly conduct for his deed.
Peachtree City Police Department spokesman Chris Hyatt said 19-year-old Hilton L. Patterson, of Scottdale, was charged with disorderly conduct in the Nov. 12 incident.
Hyatt said the juvenile daughter of the vehicle owner was in the car while her father was inside a store. Patterson approached it and ripped a "Trump 2020" flag off the vehicle, threw it in the parking lot, then entered his vehicle and proceeded to drive over it several times before leaving the area.
A witness got Patterson's tag number and provided it to police, Hyatt said, adding that Patterson was subsequently contacted by officers.
Patterson admitted to the action, telling police he felt like he was doing a good thing, said Hyatt.
In another incident, a Tyrone man on Nov. 13 was charged with disorderly conduct following an incident at Big Daddy's Oyster Bar in the Crossings East Shopping Center on Ga. Highway 54 East.
Hyatt said Remberg S. Salamanca, 35, was charged in the incident.
Hyatt said an officer was flagged down by security at 2:24 a.m. about an incident that had occurred.
Video showed Salamanca at the bar and refusing to leave when approached by security staff who subsequently poured his drink out and attempted to escort him to the door.
Salamanca grabbed the bar, and had to be pried off it before being escorted out the door, Hyatt said.
Salamanca was charged at the scene.