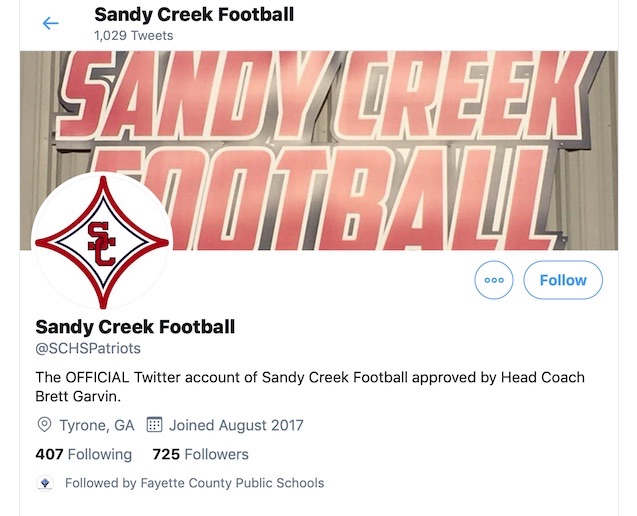 Parents of members of the Sandy Creek High School football team received a letter on Nov. 10 notifying them that program operations are being temporarily halted due to cases of Covid-19.
According to the letter from Principal Richard Smith, "In keeping with Sandy Creek High School's practices to respond to Covid-19, we are notifying all student families that, due to confirmed Covid-19 cases associated with our football team, we are temporarily halting the operations of our football program.
"After careful review, it has been determined that there will be no practices or football-related activities from Nov. 11-15. We are working closely with the Georgia Department of Public Health on this matter. Contact tracing has been conducted and those individuals who need to quarantine have been notified," Smith said.
During the closure, all football facilities and equipment will be thoroughly cleaned and sanitized.
"Unfortunately, this will result in the postponement of this Friday's (Nov. 13) football game, which was also to be our senior night. We are working on plans to recognize our seniors at a later date; those plans will be communicated as soon as they are finalized," said Smith.
Smith said all parents are encouraged to temperature scan and monitor students closely for any sign of potential illness.
"If your child begins exhibiting any symptoms of Covid-19 including fever, new or persistent cough, headache, loss of taste or smell, fatigue and/or stomach issues (diarrhea), immediately alert the school and your student should remain at home," he said.
Those with questions can contact Smith at 770-969-2840 or via email at smith.richard@mail.fcboe.org.