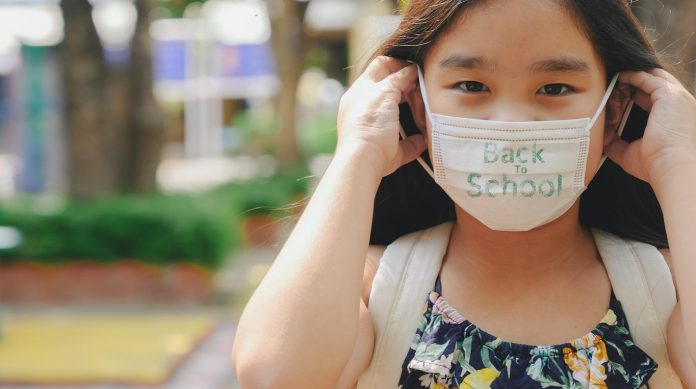 3rd- and 6th-graders begin 4-days a week, followed by 4th- and 7th-graders Oct. 12; 5th-, 8th- and 9th- through 12th-graders return to class Oct. 19; all students pre-K through 12th start 5-day-a-week in-school classes Oct. 26 —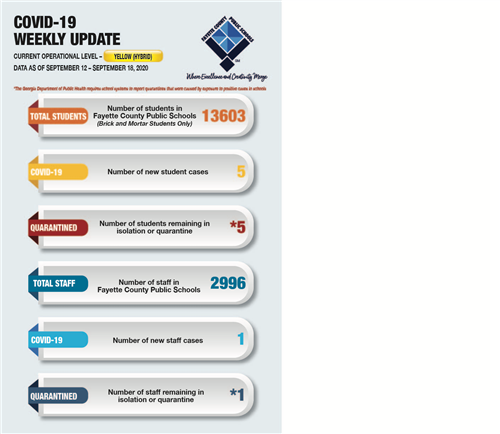 Fayette County Public Schools on Sept. 18 announced that a plan has been developed to bring "bricks and mortar" students from a 2-day per week in-school schedule to a 5-day in-class, phased-in schedule by late October.
As the number of COVID-19 cases in Fayette County continue to decrease, and the number of cases in the county's public schools are declining as well, the Fayette County Public School System's COVID-19 task force, working in conjunction with the Georgia Department of Public Health, has developed a plan to bring "brick and mortar" students back to their schools five days a week, said school system spokesperson Melinda Berry-Dreisbach.
Illustrating the point, for the week ending Sept. 18, there were 13,603 students attending in the classroom, with five new students cases, five students remaining in isolation or quarantine, one new staff case and one staff remaining in isolation or quarantine.
Berry-Dreisbach said students will gradually return by grade level for face-to-face instruction for four days a week until the hybrid model is completely phased out on Oct. 26. Wednesdays will continue to be used as a "flex" day for sanitation, teacher planning and virtual support until students are back to a five-day per week schedule.
Pre-kindergarten through second grade will continue their five-day a week schedule during the phase-in for other grades.
Full time virtual students will continue their classes as normal, Berry-Dreisbach said.
"The task force will review COVID-19 case data for the community and schools roughly every two weeks with the first review happening Friday, Sept. 18, and will make an announcement about the first grade-level phase-in," said Berry-Dreisbach. "Subsequent reviews and grade-level phase-in announcements will be made Oct. 2 and Oct. 12. It is important to note that if cases start to trend upward as the phase-in begins, the process will be paused until deemed safe for it to restart."
The four-day a week face-to-face instruction schedule per grade level is as follows:
Sept. 28 – Oct. 23 third and sixth graders (announcement made Sept. 18)
Oct. 12 – Oct. 23 fourth and seventh graders (announcement made Oct. 2)
Oct. 19 – Oct. 23 fifth and eighth graders, and ninth through 12 graders (announcement made Oct. 12)
By Monday, Oct. 26, all brick and mortar students (pre-kindergarten through 12th grade) will be on "green status" with face-to-face instruction taking place five days a week.
During the phase-in and while operating on green status, face coverings will still be required for both students and staff. Physical distancing protocols will continue to the extent possible, and handwashing and other sanitization practices will remain a priority, Berry-Dreisbach said.
The PSAT for ninth, 10th and 11th graders has been scheduled for Oct. 29.
The school system's COVID-19 task force, working in conjunction with the Georgia Department of Public Health, will continue to monitor the virus spread in the community and schools to determine if a shift in operational status is needed.