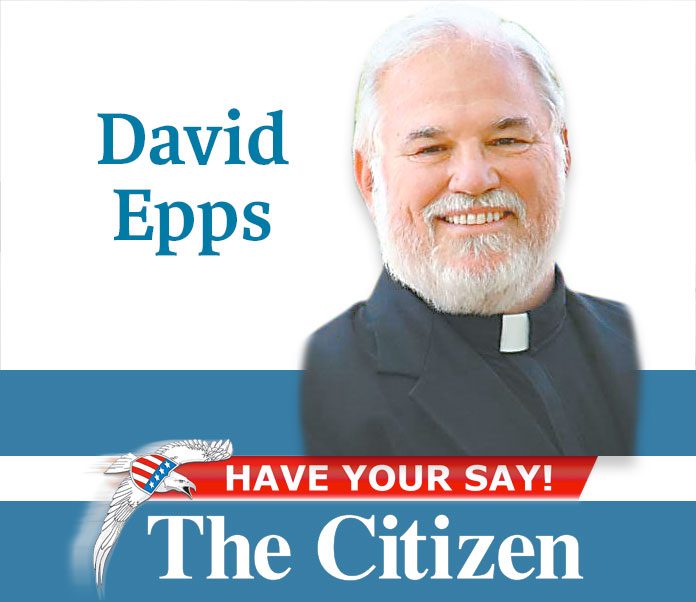 No one wanted us to do it. Not my best friend, not our parents, not anybody. But we did.
We were young, stubborn, and determined. I doubt that anyone thought we'd make it five years. We were both the eldest child in our family which didn't bode well. I was 20, she was 19. Neither of us knew what we were in for but, on September 6, 1971, we were married at Mountain View United Methodist Church in Kingsport, TN.
It was a small intimate service, just family and a close friend, as the Rev'd Fred L. Austin officiated at our wedding. This past Sunday, we celebrated our 49th anniversary. We surprised everybody.
All those people who tried to warn us how difficult it would be? They were absolutely correct. Neither of us dreamed how difficult it would actually be. My father helped us out financially once but, after the lecture he gave the both of us, I decided I would never ask him for help again. And I never did. Cindy's parents helped us during a difficult year and, grateful though we were, we wanted to do this on our own as much as possible.
We both started out working and going to college. As it turned out we would both pay our own way. Our first Christmas together came quickly and she was already pregnant. On Christmas week, I lost my job. Suddenly there was no money and no health insurance.
I had been a Marine Reservist and, unable to find any kind of job with insurance, I activated into the regular Marine Corps and, for the second time, after only being married for less than six months, I was on active duty. I fully expected to be sent to Vietnam. Why I wasn't, I do not know.
We moved Stafford, VA outside Quantico Marine Corps Base and tried to survive on lower enlisted pay. I took a night job as a check-out person at a supermarket. Our first son was born and the Marine Corps paid the bill.
After my tour was over, we moved back to Tennessee and I re-enrolled in college. The G.I. Bill helped, but I still had to work. My father was so anti-welfare, it never occurred to me to go to financial aid so there was no Pell Grant for me. She stayed home with the kid and I slogged through to a degree and graduated cum laude. Graduate education was put off and I began to serve small churches as a local pastor. It was her turn and she went to nursing school and received her Associate of Science degree in Nursing and went to work.
Not willing to starve further (I made $100 a week full-time pastoring four churches), and frankly being too immature for the task at that time, I left the ministry and took a job with the state of Tennessee as a child protective social worker. We hit a rough patch and neither of us were sure the marriage would last. In fact we were pretty sure it wouldn't. After five years of marriage and two kids, I told her that no matter what, if it "never got any better that this," I would never leave her. Never.
Things improved and we moved to Colorado where I took a staff job with a large church and saw the birth of our third son. After almost three years, we came to Georgia where I became the pastor of a young church. That was 37 years ago last June.
During that time, I finally received my seminary degree and enrolled in a doctoral program, and she got her BSN, MSN, and Ph.D. In all the four degrees, she never made less than an "A." 4.0 all the way.
She worked in nursing and then in higher education. She retired almost four years ago as a full Professor and associate dean of the School of Nursing at the University of West Georgia. She was honored with the title of "Professor Emerita" for distinguished contributions to academia. We have been blessed by our children and their spouses with 13 grandchildren, one of which is with the Lord.
Twenty-four years ago this coming Sunday, we planted a new church with 19 people, including 8 family members, and so we have that anniversary coming up Sunday as well. I knew when we started the church that I would probably never make the salary I made in my last church but, since we struggled throughout the years, it didn't seem all that important. And, even though I was correct in that assumption, except for the bills we acquire during the month, we are debt-free.
I wish I could say that most of our life has been smooth and easy but that would be untrue. Most folks think that a pastor's life is a protected, ivory tower sort of existence but they couldn't be more wrong. It is true that you see people at their best but you also see them at their worst. One better be called to this life because it will crush those who are not, including the wives and children.
Those who stay with it will see more divorce, death, addiction, suicides, and disappointment than the average person. They will also feel the sting of back-stabbing and the pain of betrayal in far greater abundance than most people. And there has been a dramatic increase in clergy suicides, as discussed in the article of a few years ago, "Why are so Many Pastors Committing Suicide?"
There is no lack of statistics about pastors and depression, burnout, health, low pay, spirituality, relationships and longevity — and none of them are good. According to the Schaeffer Institute, 70 percent of pastors constantly fight depression, and 71 percent are burned out. Meanwhile, 72 percent of pastors say they only study the Bible when they are preparing for sermons; 80 percent believe pastoral ministry has negatively affected their families, and 70 percent say they don't have a single close friend. The Schaeffer Institute also reports that 80 percent of seminary and Bible school graduates will leave the ministry within five years.
The life that chose us is not easy but there are also the rewards. And there are many, most of them being found in the people you are able to serve and help in some way.
The question was posed on social media the other day, "What would you be doing if you were living your childhood dream?" I replied, "I am living mine." And it's true. Not that I don't have those moments when I wish I was doing anything but this, because I do. But, in my more lucid moments, I have no regrets.
In 2007, I was elected a Bishop in my denomination, a position which I did not and do not deserve but God "chooses the foolish things of the world to confound the wise," so I do my best.
The ministry, or her profession, (and a couple of vacations) have taken one of both of us to places we never would have dreamed of seeing: The Philippines, Mexico, Australia, St. Thomas in the Virgin Islands, Paraguay, Ireland, the Netherlands, Kenya, Uganda, Canada, Chile, Germany, Denmark, Norway, Sweden, and England. We still would like to visit Scotland and, perhaps, Israel.
A sales lady we met in a store a couple of years ago asked us how we made it so long when so few couples do. She said. "I know you're a clergy couple and God helped you and all that but what's the secret?"
I said, "It's really quite simple. You choose not to quit. No matter what, you don't quit. However hard it gets, you don't quit."
My parents didn't see their 50th anniversary due to the death of my father before they hit that mark. My in-laws celebrated their 70th this summer. We're getting ever closer to our 50th day by day.
We have had quite the ride. Sometimes it's been a roller coaster ride but still a ride. It's been 49 years and a few days now and we didn't quit. And we won't. And I will never leave her while I have breath. Never.
[David Epps is the Rector of the Cathedral of Christ the King (www.ctk.life). During the crisis, the church is live streaming at 10:00 a.m. on Sundays at http://www.facebook.com/cctksharpsburg/ He is the bishop of the Diocese of the Mid-South He may contacted at davidepps@ctk.life.]