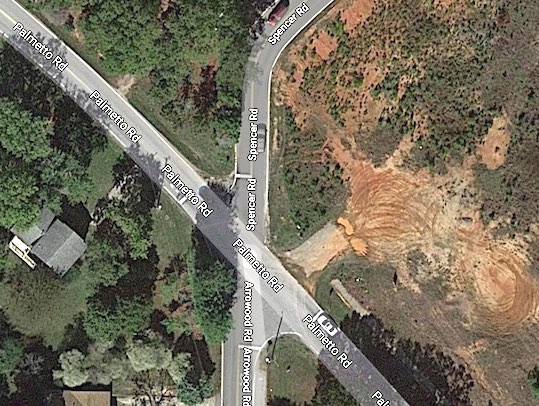 A traffic study to determine alternatives for the intersection at Palmetto Road, Spencer Lane and Arrowood Road received approval Sept. 3 from the Tyrone Town Council at the low bid cost of $10,000.
Tyrone Public Works Director Scott Langford at the meeting noted that the 2017 SPLOST (special purpose local option sales tax) plan targeted the intersection for improvement.
For those not familiar with the area, Palmetto Road links Ga. Highway 74 to the Collinsworth Road interchange at Interstate 85 and Palmetto in south Fulton County.
Specific to the intersection of Spencer Road and Arrowood Road with Palmetto Road, Spencer Road is the back way in and out of the Southampton Village retail area and Arrowood Road connects to Senoia Road a short distance from Shamrock Park.
Langford noted that the town initially considered a mini-roundabout for the intersection, advising that a traffic study be conducted to determine the best intersection improvement based on traffic volumes, accident data and future traffic volume projections.
"The study will help us determine what is feasible and what options we have," said Town Manager Brandon Perkins.
The town had received three bids for the traffic study, with those bids ranging from $10,000 to $16,665.
Council members approved the low bid from Newnan firm Maldino and Wilburn.