The largest protest in memorable Fayetteville history occurred June 6, where an estimated 2,000 people peacefully showed unity and solidarity for the black lives lost by some in law enforcement in other areas of the United States. The large group assembled at the Fayette Pavilion and walked 2.6 miles to City Hall where they heard the comments of local elected and appointed officials.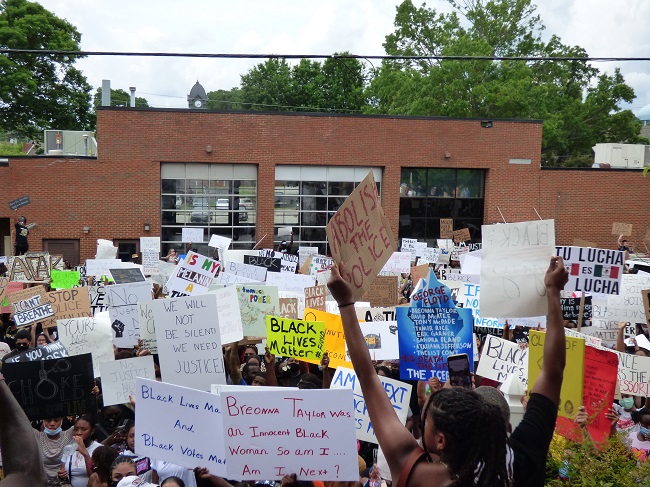 Scroll to bottom of this story for photo gallery
Organized by Sandy Creek High School graduates and Fayette County residents Raven Neal, Logan Bolton and R.J. Howard, and by Fayette County High School graduate David Osilaja, the protest effort began a few days earlier on Tuesday.
More recently, Neal graduated from Clark Atlanta University, while Osilaja is a graduate of Ga. State University.
"I went to some protests and was inspired by the passionate people," said Howard, now a student at Morehouse. "We have people who care here, too. It seems like (having black lives lost) happens over and over again. We wanted to make our voices heard."
Asked about the objective of the protest, Bolton said, "The biggest goal is to raise awareness and call people out. We want our voices to be heard."
Bolton, a student at Wake Forest, said they wanted a peaceful protest, with "no funny business," adding that "I'm proud of this city."
The organizers said those addressing the crowd would do so at City Hall. Those would include Fayetteville Mayor Ed Johnson, Tyrone Mayor Eric Dial, Fayetteville Police Chief Scott Gray and state Rep. Derrick Jackson (District 64).
After receiving instructions from Howard on the rules for the protest, the expansive mass of people left the Tinseltown parking lot, led by Bolton, Howard, Chief Gray and Deputy Chief Robert Mask, and walked to Ga. Highway 314.
From there, and estimated at 2,000 strong, what was essentially, in terms of numbers, a movable city of people walked south, crossed Ga. Highway 85 and continued onto North Jeff Davis Drive, making their way to City Hall on South Glynn Street. The group included a number of local elected and appointed officials.
Along the way, on a day where the temperature was in the upper 80s, EMTs were stationed along the 2.6-mile route while others, including local churches, supplied water. It was a long walk on a hot day.
During the procession, a mass of horns from motorists stopped by the march blew in support, as had been done the evening before at another protest in the downtown area. Along the way, and also once gathered at City Hall, the protesters chanted, "Black lives matter," No justice, no peace, no racist police," "Say his name, George Floyd" and "Say her name Breonna Taylor."
George Floyd died in Minneapolis on May 25 after Officer Derek Chauvin kept his knee pressed on Floyd's neck for nearly nine minutes on the street during an arrest.
Breonna Taylor was killed by officers in her Louisville, Kentucky home on March 13 during a no-knock drug warrant search where no drugs were found.
While in route and at City Hall, countless signs were displayed, making a visual point that complimented the oral message of the protesters.
Upon arriving at City Hall, the crowd packed into the parking lot situated between City Hall and the fire station, wrapping around the side of the fire station building on the east side and spilling onto the grass on the west side at Glynn Street.
Howard, Bolton and others initially spoke to the large group, and were followed by comments from Dial, Johnson, Chief Gray and Jackson, all of whom addressed the crowd from the steps leading into City Hall.
Also on the steps, though they did not speak, were state Rep. Debra Bazemore (District 63), state Rep. Josh Bonner (District 72), Fayette County Commissioner Charles Rousseau and Fayetteville Councilman Rich Hoffman.
Up first, Dial said he was struggling and praying "what my role should be." The role, said Dial, was first to listen, then to learn and to grieve with those who grieve, and to mourn with those who mourn.
"Racism and hatred is an attack on the glory of God. I pray for justice and peace," Dial said.
Johnson, who is also a local pastor and Navy veteran, began his remarks by noting that "The person standing next to you is your brother and sister no matter what the color of skin."
Johnson continued, saying, "I will stand up for injustice no matter what the risk. Injustice is contrary to the will of God. Systemic injustice will not be tolerated in Fayetteville."
Johnson called for applause for local law enforcement from the protesters, and he got it, adding that police did not show up for the protest in riot gear.
Chief Gray followed, and noting the peaceful protest as designed by organizers Bolton and Howard, said, "This is how you do it."
"We (the police) showed up with peace and love and unity. We refuse to let the one-percent of our profession define us. The fight is not over. Black lives matter," Gray said, with the protesters responding in kind and applauding.
Gray and others speaking on Saturday challenged the media to cover the peaceful way the protest was conducted. It appeared that few media outlets were present.
Last up was Jackson, who said, "You typically only see the bad stuff and bad decisions. Enough is enough. This is what America looks like. We don't need to tear down our community to build it up."
Jackson then reflected on the last minutes of George Floyd's life, as he lay dying on the street.
"If you want to tear something down, tear down bigotry and hatred," Jackson said, adding that when in the Navy, he was a naval officer, not a black officer.
The only overtly political comments coming at the protest came from Jackson, who near the end of his comments said, "We have a fool in the White House trying to divide this country."
The protest ended with the mass of people making their way back to the Pavilion on that hot Saturday afternoon.
It is noteworthy that the June 5 and 6 protests in Fayetteville and the June 2 protest in Peachtree City were all organized by young people from Fayette County. Each had the objective of bringing awareness to the black lives lost at the hands of law enforcement, combined with a show of unity and solidarity. Each stated up front that the aim was to have a protest that was peaceful and respectful.
As a testament to their intent, all the objectives were accomplished.