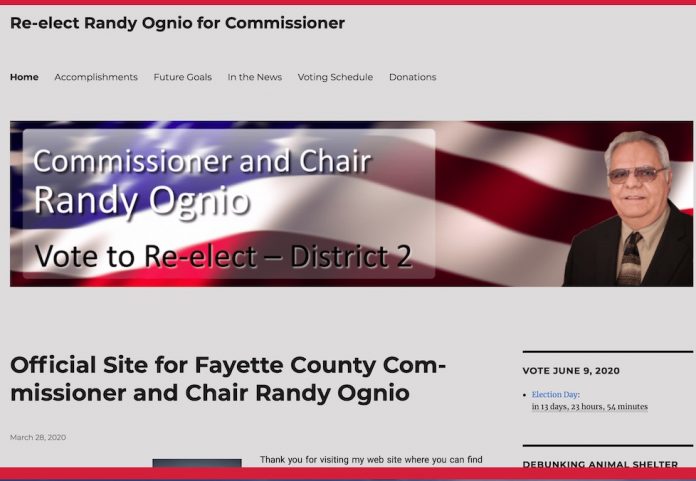 RANDY OGNIO
QUESTION: You are asking to be hired (or re-hired) by the voters of this county. Give five reasons why they should vote for you and not your opponent.
• I am a businessman and owner, not a long-term government employee. I bring practical business experience to the board.
• My experience with budgets and finances in the private sector gives me the knowledge needed to review, question, and approve the many contracts that come before us.
• I have had the honor of serving on other private sector boards before becoming a commissioner. Those gave me a lot of experience in the how to get things done when on a board.
• My leadership skills have served me well and I will continue using those skills to serve the citizens of Fayette County.
• My accomplishments as commissioner (some of which are listed below) should show that I am very well qualified to continue serving the citizens of Fayette County. Please go to OgnioForCommissioner.com for a more complete list.
• Started live streaming the commission meetings.
• Balanced the budgets all seven years. We hope to make it eight this year. My opponent challenges, "He said upon his review of the budget documents provided on the Fayette County web site he found 4 out of 7 of Mr. Ognio's budgets were deficit budgets and the largest deficit came in 2013 at over 5 million dollars."
None of this is true. All 7 budgets I voted for have been balanced. As for the 2013 budget, Mr. Hearn voted for that budget in June 2012. That was his last of the four deficits he voted for.
• Rolled back the general fund M&O millage rate from 5.645 mills when I took office to 4.392 mills to date.
• Earned AAA bond Rating
• As chairman of the Board of Commissioners, I have been working hard to bring state and federal funds to the county. I also have made sure that Fayette County is not included in the MARTA expansion plans through the year 2050.
• Voted to adopt a new plan for 2017-2040 that changed that Land Use Plan so the county has better control of development over what prior commissioners allowed. My opponent has stated: "The rezoning Ognio approved on Sandy Creek and Veterans Parkway is the worst spot zoning in decades in our County."
This rezoning was done by the city of Fayetteville not the county. I spoke against this rezoning at the city council meeting.
QUESTION: How are you different from your opponent(s) in your philosophy and your approach to this elected office?
I will manage the taxpayer's money wisely.
I believe in balanced budgets and the definition of a balanced budget is that our yearly operating expenses are less than our revenue without using fund balance.
I want to keep Fayette county taxes as low as possible. Therefore, we have rolled the general fund M&O millage rate back 5.645 mills when I took office to 4.392 mills to date. We hope to roll it back further.
To continue to support and improve Public Safety including the projects we have done for the Sheriff's Department including a new gun range and new training center. For the fire department, upgraded the training facility and replaced old vehicles.
Evaluate and make improvements to the county roads. We are doing this through the Transportation Committee that I suggested, and we created. Thanks to the transportation committee and staff, we completed a comprehensive transportation plan and three corridor studies. We now need to follow these studies to make improvements and additions to the roads. As chairman I have been working to secure funds from the state and federal through the Atlanta Regional Commission.
I will continue to work to make sure we continue completing the SPLOST projects in the order as listed when approved. This is not what my opponent did with the 2004 SPLOST. He rearranges the priorities.
Continue to make improvements to county facilities and technology for operation and efficiency.
To continue to be accessible and responsive to the citizens. Also be truthful unlike my opponent's statements during this campaign, on supporters, budgets, and zonings.
Support Republican values. As long-time members of the Republican Party, we have participated in county, district, state, and national conventions. As a matter of fact, my wife was a delegate at the national convention and cast her vote for Trump. I have only seen my opponent at a few Republican meetings, usually around a time when he is running for election. I have never seen him at a convention.
Please Vote Randy Ognio For Fayette County Commissioner District 2.