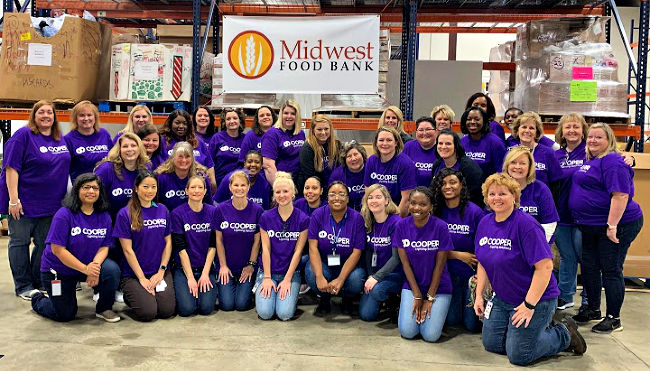 We're here for you.
At Cooper Lighting Solutions, we build forward-thinking lighting solutions that make people's lives safer, while making buildings, homes, and cities smarter and more sustainable. Cooper Lighting Solutions is a business unit of Signify, the world leader in lighting. Together we have a shared purpose to unlock the extraordinary potential of light for brighter lives and a better world.
With this in mind, Cooper Lighting Solutions is giving back to local community organizations – Real Life Center, Midwest Food Bank and Piedmont Healthcare COVID-19 Infrastructure Fund
With the many individuals and families in need in the Coweta and Fayette communities, where Cooper Lighting Solutions is headquartered, the company made a donation to help support Real Life Center. This worthy organization distributes food to families in need and donated over 600,000 pounds of food in 2019.
Cooper Lighting Solutions has long partnered with Midwest Food Bank through employee volunteerism. Midwest Food Bank has an initiative called Tender Mercies that provides healthy meal packets at the cost of only 20 cents each. Each meal packet feeds about four people with 13 grams of protein, 6 grams of fiber and 1 gram of fat per serving. Cooper Lighting Solutions purchased a pallet of these meal packets which will be distributed by Midwest Food Bank to the many organizations it supports.
Lastly, Cooper wanted to do something to help support– the front-line workers at Piedmont Fayette Hospital, who have worked around the clock to keep our community safe. A donation has been made to the Piedmont Healthcare COVID-19 Infrastructure Fund. This fund directly supports and benefits PPE, COVID testing, drive-thru site funding, and more.
Cooper Lighting Solutions is proud to be a member of the Fayette County and Peachtree City communities.