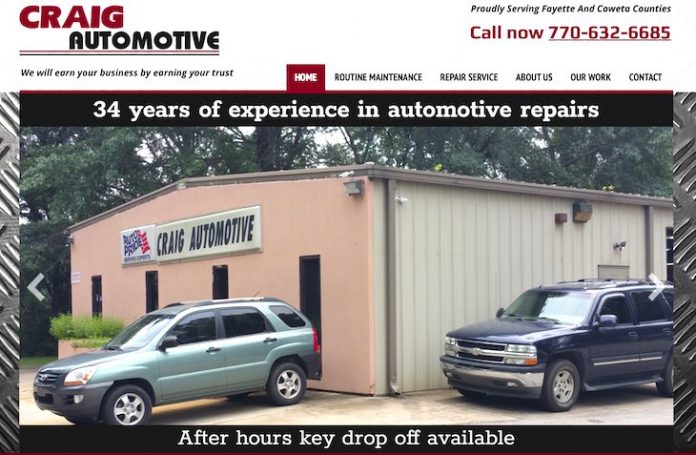 OPEN FOR BUSINESS!
Glenn Wacaster wants you to know Craig Automotive on Huddleston Drive in Peachtree City is open for business to repair and maintain your vehicle.
What is the most important thing you want people to know about you, your company or organization?
We are doing everything we can to help with the spread of Covid-19: Cleaning entrance points and lobby several times a day. Disinfectant cleaning anywhere we touch inside customers' vehicles.
What are your current business hours of operation?
Monday through Friday, 8 a.m. to 5:30 p.m. and Saturday 8 a.m. to  1 p.m.
What COVID-19 mitigation strategies are you employing?
Cleaning, cleaning, and more cleaning, plus social distance!
What are a few things you can do to solve problems and improve the lives of your customers?
We will make all your automotive repair as simple and safe as possible.
What sets you apart from your competitors? What's your unique offering?
We will earn your trust in taking care  of all your automotive needs.
Awards, Accolades, Certifications
We are ASE certified.
What do you love most about what you do?
We are able to offer top Quality Auto Repair at a reasonable price.
Is there anything else you want us to convey to customers or the community?
We hope everyone stays safe and healthy there during these uncertain times. Give us a chance to earn your trust and business.
Address
Craigautomotive.com
122 Huddleston Road, Peachtree City, Georgia 30269
Call Craig Automotive at 77-632-6685.
Email automotivecraig@bellsouth.net