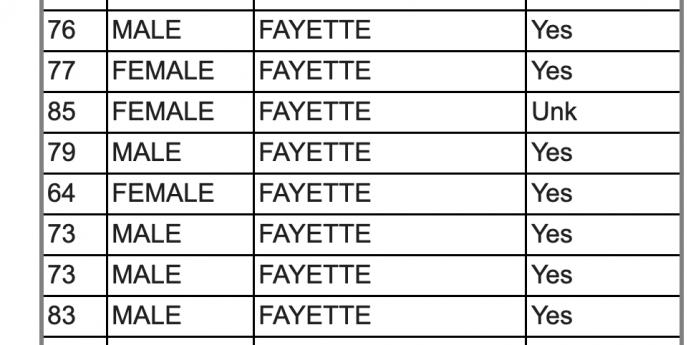 Gov. Brian Kemp announced at 4 p.m. April 20 a phased reopening of some of Georgia's closed businesses, a decision based, he said, on the declining numbers of Covid-19 fatalities across the state. Less than 3 hours later, the Georgia Department of Public Health reported that Fayette County fatalities increased from 5 to 8.
That's the most deaths of Fayette residents reported in one day since the Covid-19 pandemic began. The DPH gives no identifying information about the deceased other than sex, age, county of residence and whether the victim had any underlying medical conditions. Thus, from the DPH data, here's what we know about the fatalities:
Male, 76, yes; female, 77, yes;  female, 85, unknown; male, 79, yes; female, 64, yes; male, 73, yes; male, 73, yes; male, 83, yes. The lone victim under age 73 was a 64-year-old woman with a pre-existing medical condition.
It's unclear from the DPH chart whether the fatalities are listed in order of their demise.
Before the April 20 update, these were the reported Fayette fatalities: 3 males, ages 79, 83, and 73, all with underlying conditions; 2 females, age 77 with underlying condition, and age 85 with unknown underlying conditions.
Coweta County also added another fatality in the April 20 evening report, bringing its total to 4: 3 females, ages 84, 58 and 42, and 1 male, age 77.
Fayette had reported its first Covid-19 death exactly one month prior on March 20: an 83-year-old man with an underlying medical condition. The death toll rose to 2 on March 26, to 3 on March 29, to 4 on March 31 and to 5 on April 13. Then came the 3 reported in one day on Monday, April 20.