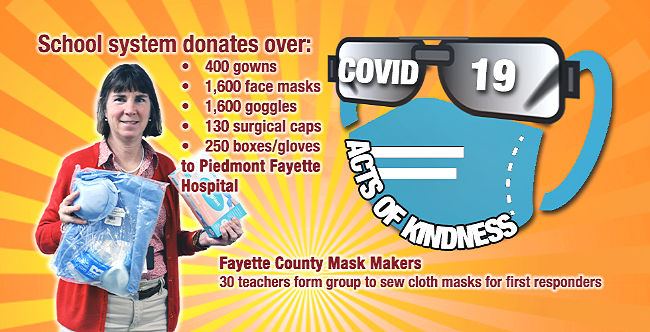 School System Donates Protective Supplies to Hospital
Teachers Sew Face Masks for First Responders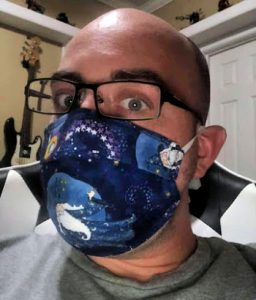 With the nationwide shortage of personal protective equipment to guard against the COVID-19 (coronavirus), medical facilities across the nation are asking non-healthcare businesses and organizations to donate any supplies that they can spare.
Answering the call for help at Piedmont Fayette Hospital, the Fayette County Public School System immediately began gathering masks, gowns and goggles from its schools, that are used by students in science and healthcare classes, to offer aid to medical providers at the hospital. Additionally, school health services coordinator Debbie King collected supplies from school clinics to add to the donation.
All totaled, over 400 gowns, 1,600 face masks, and 1,600 goggles, 130 surgical caps, and 250 boxes of gloves were delivered to the hospital on March 24.
"This donation is really important because healthcare providers are having to reuse what they have due to the national shortage for personal protective equipment. This gear is essential in keeping them safe and healthy so that they can continue to provide assistance to those who need it most. If our healthcare providers get sick and cannot work, that will not be a good situation for the community," says King.
With protective masks being in short supply, medical workers are making what they have stretch by using a cloth mask to protect the paper one. The cloth mask catches the germs so that the paper ones can be reused.
Sherri Dickerson, a special education teacher at Whitewater Middle, has spearheaded a group called Fayette County Mask Makers, about 30 Fayette County Public School System teachers are involved. The teachers are helping in various ways, some are sewing while others are gathering supplies. Their goal is to start with first responders and then supply healthcare workers in doctor's offices and the hospital with cloth masks.
Dickerson said it all began on Friday, March 20 when she spoke with Fayette County Fire Department Division Chief Steven Folden, who informed her of the need for masks. "I then reached out to several administrators who sent out an email blast, and we have gone from there," says Dickerson.
Dickerson delivered the first group of 40 masks to Folden on March 24, and another 50 masks were taken to Piedmont Fayette Hospital on the same day.
The group has partnered with Quilt N'Fabric in Fayetteville to serve as a drop off location for the masks. Dickerson says she hopes to see many more masks delivered to the drop off over the next several days. The types of masks needed include those for children, hospital grade (filter ready), and oversized for men. A Facebook page has been set up for volunteers to join the effort. Simply search for Fayette County Mask Makers.
Russell Waseman, a paramedic in the catheterization laboratory and emergency room at Piedmont Fayette Hospital, shows off a cloth mask made by his wife, Jessica, who is a special education teacher at Spring Hill Elementary.
Fayette County Public Schools Health Services Coordinator Debbie King displays personal protective equipment donated from school clinics.