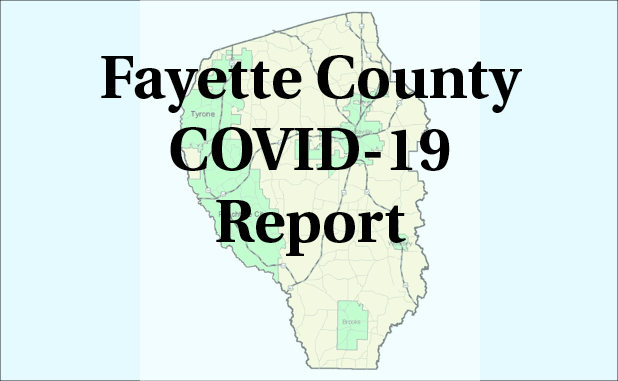 March 23 noon Covid-19 report from Ga. Dept. of Public Health: 772 cases and 25 deaths, a 3.24% fatality rate; big jump in middle age group percentages — 
Fayette County now has 10 confirmed cases of Covid 19, the respiratory illness caused by the new coronavirus. The death toll in Fayette remains at 1, an 83-year-old man with an underlying health condition who died March 19, according to DPH.
As of noon, Monday, March 23, the state reports a 28% increase in reported cases of Covid-19 — up from 600 Sunday to 772 reported 24 hours later. So far, there are 25 deaths attributed to the new coronavirus, a fatality rate of 3.24%, which is remaining relatively steady, according to the DPH reports.
Neighboring Coweta County has seen its number of confirmed cases rise to nine, with one death — a Newnan woman, 42, who died at her home Thursday night.
Perhaps the surprise statistic from the March 23 report is the percentage jump in cases among the group of people ages 18 to 59. That middle group now accounts for 59% of all reported cases. That's up from 42% just a day earlier.
The age group believed to be at highest risk of death from the illness — ages 60 and above — has fallen as a percentage of all cases to 36%.
The DHS did not address the shift in percentages in its report. One clue lies in the percentage of cases that reported an unknown age. That group fell from 26% March 22 to 4% of the total a day later.
It looks like the unknown age group might have contained a larger number of younger people whose cases then shifted from the unknown column to the correct age group. That would mean that one group didn't suddenly get more prone to infection, just that the ones infected got shifted to the correct age group.
Even so, with higher raw numbers of cases properly placed in their correct age groups, the percentages indicate that persons aged 18 to 59 represent about three out of every five Covid-19 cases.
Those persons under age 18 still represent only 1 out of every 100 cases, according to DPH figures.
Commercial labs are reporting 3,824 tests administered that produced 608 confirmed cases. The DPH labs administered 1,245 tests with 164 positive results. So commercial labs are reporting about 16 out of every 100 tests are coming back with a positive indication of the coronavirus. State DPH testing produces a lower positive rate of about 13 out of every 100 tests administered.
Here are confirmed Covid-19 numbers from adjacent counties: Fulton, 145; Clayton, 18; Coweta, 9; Henry, 9: and Spalding, 4.