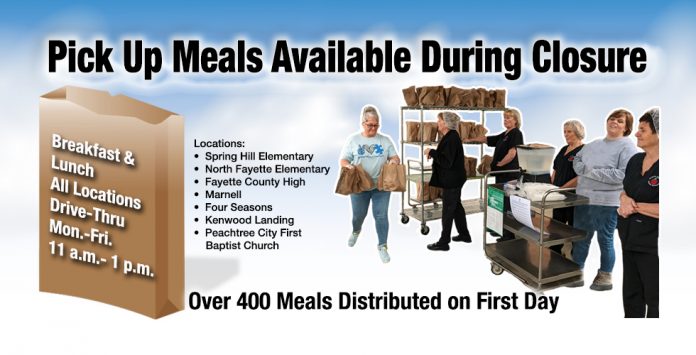 For some students, school is the only place where they receive a regular breakfast and lunch during the school week. With schools being closed due to COVID-19 (coronavirus), it is possible that many of these students may go hungry.
Realizing this, the Fayette County Public School System took measures to ensure that no child age 18 and under (and students with disabilities age 21 and under) goes hungry during the closure. Any family in the county with children who meet the age requirement can come to the following locations from 11 a.m. to 1 p.m. Monday-Friday to receive a bagged breakfast and lunch:
 

Spring Hill Elementary – 100 Bradford Square, Fayetteville, GA 30215
North Fayette Elementary – 609 Kenwood Road, Fayetteville, GA 30214
Fayette County High – 1 Tiger Trail, Fayetteville, GA 30214
Marnell – 1512 GA 54 W, Fayetteville, GA 30214
Four Seasons – 100 Apollo Drive, Fayetteville, GA 30214
Kenwood Landing – 225 Club Drive, Fayetteville, GA 30214
Peachtree City First Baptist Church – 208 Willowbend Road, Peachtree City, GA 30269
Pick up is drive-thru only, no food can be consumed onsite. Children must be present in order to receive meals. The number of meals received is based on the number of children in the vehicle.
Over 400 families visited the Spring Hill Elementary and North Fayette Elementary sites the first day of service on March 16.