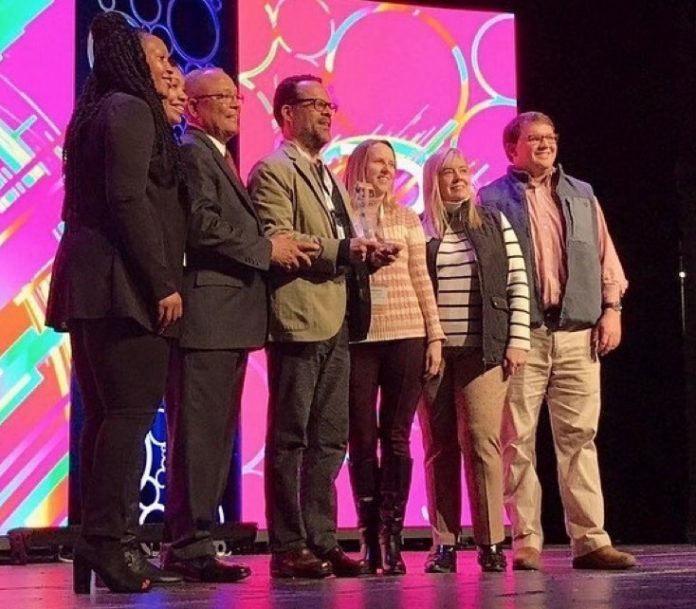 Drug Free Fayette recently received the Coalition of Excellence Award from CADCA (Community Anti-Drug Coalitions of America), the nation's leading substance misuse prevention training organization.
The ­Coalition of Excellence award is part of CADCA's "GOT Outcomes!" award program, which gives national recognition to exemplary coalitions that have clearly documented their impact on population-level substance misuse outcomes. Drug Free Fayette received this prestigious award on Feb. 6 during CADCA's 2020 National Leadership Forum at the Gaylord National Hotel and Convention Center in National Harbor, Maryland, said DFF Communications Manager  Mariam Shakeel.
"There are over 700 coalitions across the United States who do the kind of substance misuse prevention work that Drug Free Fayette does," said Michael Mumper, DFF's Program Coordinator.  "It's quite an honor to be one of just three organizations nationwide recognized for the impact of our work."
Shakeel said to achieve success, coalitions have to determine effective solutions to substance misuse in their community, adding that one thing Drug Free Fayette's community assessment told them was that parents were hosting teen drinking parties. This is called "social hosting."
"When I came into office in 2013, I knew Fayette County needed to address parents hosting teen drinking parties," said Fayette County Sheriff Barry Babb.  "We worked with Drug Free Fayette to create the county's Social Host Ordinance, and now we even have some parents calling us BEFORE a party to ask what they can do to avoid being a social host."
But adopting these ordinances is only half the battle, Shakeel explained. Drug Free Fayette wants parents to know about the ordinances before they make a decision to host a teen party.
According to Mike LaTella, co-leader of DFF's Alcohol Action Team, DFF has conducted a campaign every year since 2015 to raise parents' awareness. Every year, Drug Free Fayette has proclamations in every city in the county, posts on Facebook, and in their website and newsletter.  DFF works with law enforcement to create PSA's about the ordinances, and advertises in local newspapers.
"The result of our post campaign survey shows that there was an increase in campaign familiarity in 2019 when 66 percent of parents who responded said they were familiar with the 'Parents Who Host' campaign, compared with just 28 percent in 2015," LaTella said. "Similarly, in 2019 only 15 percent of Fayette County parents said that they knew of other parents who host teen parties with alcohol, compared to 22 percent."
LaTella added that 12th grade alcohol use has dropped from 26 percent to 19 percent in that time frame.
Drug Free Fayette also worked closely with the Fayette County school system to implement alcohol education curriculum in all our county's middle schools starting in 2016.
"Young people are faced with many influences," commented Dr. Patricia Morgan, K-12 Coordinator of Science, Health & PE at the Fayette County School System. "We believe that it is essential for students to understand the internal and external factors that influence health practices and behaviors to make safe decisions and choices. Our students have a better understanding of substance misuse because of Drug Free Fayette."
"We congratulate Drug Free Fayette on their outstanding work and for being exemplary leaders in the field of substance misuse prevention. Drug Free Fayette clearly embraced the CADCA model of prevention and their commitment has led to positive sustainable outcomes within their community. Our CADCA 'GOT Outcomes!' winners exemplify the excellent work that coalitions are doing around the country to prevent and reduce substance use and misuse in their communities," said General Arthur T. Dean, CADCA's Chairman and CEO.
Drug Free Fayette was established in 2015 as a local Fayette County coalition of community leaders, parents and youth that aims to reduce youth substance misuse, and increase community collaboration around substance issues.