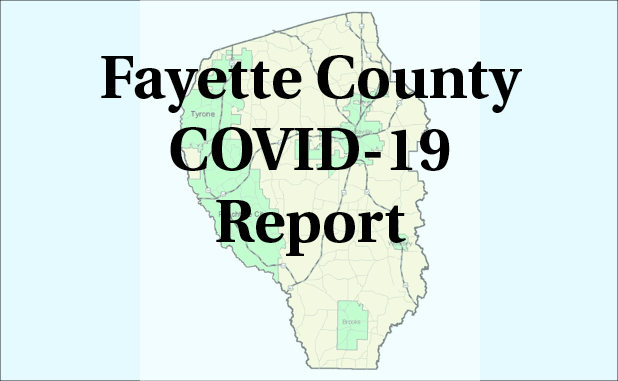 UPDATED March 19, 1:30 p.m. —
Fayette County is reporting nine confirmed Covid-19 cases, an increase of one from yesterday. That puts Fayette as number eight in the state for the number of cases caused by the coronavirus. Neighboring Fulton has the state's highest count with 66. Adjacent Clayton has six, Coweta has three and Spalding to Fayette's south has none.
Thus far, 35 of Georgia's 159 counties have reported at least one case of the respiratory disease caused by the coronavirus.
Georgia now has 10 deaths attributable to the Covid-19 disease caused by the coronavirus, according to the Georgia department of Public Health in its midday March 19 report.
Across the state, DPH is reporting a total of 287 confirmed cases of Covid-19, with 10 deaths reported, a fatality rate of 3.48%.
So far, the disease's victims are 53% male and 46% female, with 1% listed as "unknown."
Broken down by age, confirmed cases are 46% in the 18 to 59 age group, 35% in the over 60 group and 1% in the under 18 group. Ages of 18% of cases are unknown.
In the test results so far, 1,323 commercial lab tests have resulted in positive (confirmed) results in 174 cases, or a rate of 13%. Of the 508 Public Health lab tests administered, 113 have come back positive, a confirmation rate of 22%.

Older adults and people who have severe underlying medical conditions like heart or lung disease or diabetes are at higher risk for developing more serious complications from COVID-19 and should always consult their healthcare provider if they are sick. Long-term care facilities, nursing homes and congregate living settings for older people must strictly follow COVID-19 prevention measures to stop rapid spread of the virus.