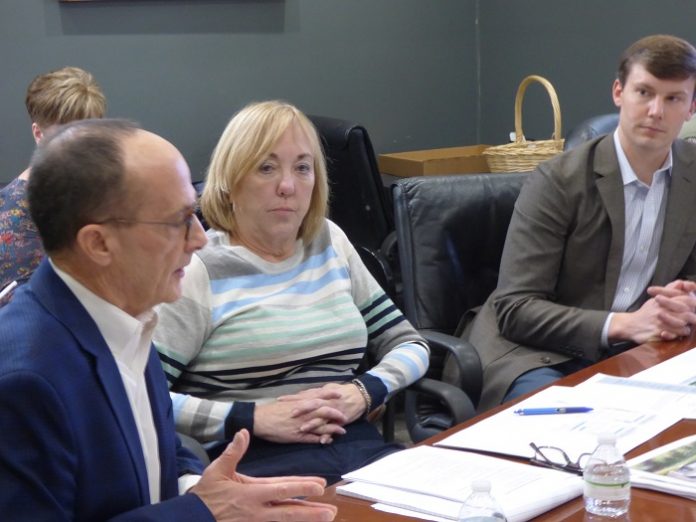 A Jan. 27 work session of the Fayetteville City Council had representatives of OneStreet Residential reviewing the proposal for a 63-unit, active adult cottage development near downtown on Ga. Highway 54 West. The proposal is expected to be on the council's Feb. 6 agenda.
The 8.13-acre property is situated between the age-restricted HearthSide Club Lafayette apartments, also owned and managed by OneStreet, to the east and Lafayette Avenue/Campaign Trail to the west.
Representing OneStreet were Development Director Deke Rochester, attorney Kathy Zigert and Senior Managing Partner David Dixon.
City planning staff at the outset noted that the property was previously zoned in 2014 for a 30-unit memory care building, a 60-unit assisted living building and 24 single-family independent living homes, totaling 114 units in all. The current proposal represents a significant decrease in density.
OneStreet said the intent was to modify the current development agreement to provide a less intense, active adult (55 years and up) community, with all the cottages being rentals.
Dixon noted that the plan, for which OneStreet continues to see a market, is to provide a residential alternative for active, discretionary renters age 55 and older, without having to opt for an apartment.
"I think the demand is great to downsize, while feeling like a single-family neighborhood," Dixon said
Responding to questions from the council about the potential for selling the property once developed, Dixon said OneStreet will retain ownership and management of the development. He added that the cottages will not be rent-subsidized.
"I think the market will be huge," Dixon said. "We're offering a type of housing that does not exist."
Responding to a question about the development maintaining a high level of quality, Rochester said, "We need it to be (high-quality). It's our first (development of this kind), and we'll be bringing investors to Fayetteville to see this."
Though plans call for 63 cottages, the development footprint calls for approximately 50 1- and 2-story buildings. The exterior grounds would include amenities such as walking trails, resident gardens, pet areas and grilling stations, OneStreet said.
OneStreet said the cottages will include comprehensive and maintenance-free living.
Rochester said floor plans will range from 1,138-1,864 sq. ft. and carry a rental price of $1,900-2,600, with an average of $2,300.
The price point puts the cottages at 15 percent higher than the rent at the adjacent Meridian at Lafayette Apartments without living in an apartment, Rochester said.
The presentation was generally well-received, with Mayor Ed Johnson noting that the proposal represents a paradigm shift in housing that could benefit the city and those looking for a new housing opportunity.
The council is expected to consider the proposal at the Feb. 6 meeting.