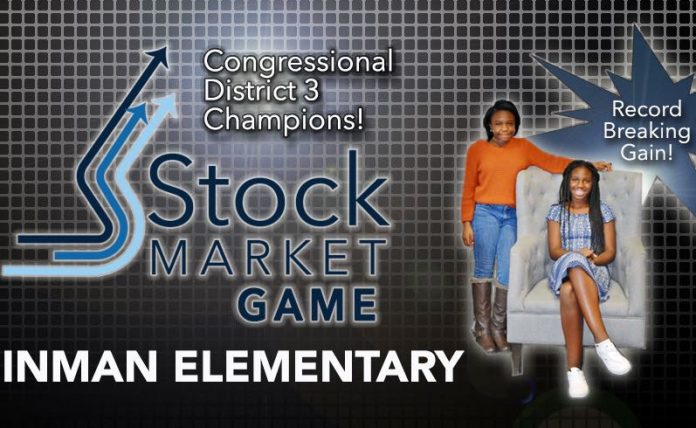 Inman Elementary School south of Fayetteville is on top once again in the Stock Market Game, having earned the largest gain for any elementary team from Fayette County Public Schools and Congressional District 3, nearly quadrupling their first record breaker in 2018 and earning almost $6,000 above the new record set last year by Robert J. Burch Elementary.
Inman students Taniya Barkley and Fiffy Abiodun-Findo took a hypothetical $100,000 and turned it into nearly $115,000 during the 10-week fall stock market trading session, making them and their school the top earners in the Congressional District.
The Stock Market Game, sponsored by the Georgia Council on Economic Education, is based on equity markets and is designed to give teachers a tool for showing students how scarcity, trade, opportunity cost, voluntary exchange, price incentive, specialization, productivity, and many other concepts play out in financial institutions they hear about in the news almost daily. Unlike real equity markets, the Stock Market Game offers students a safe and pain-free place to learn that lessons of market economics can sometimes be costly.
As the Congressional District 3 winners, the students will receive a trophy and will be recognized at the annual Stock Market Game spring luncheon in Atlanta.