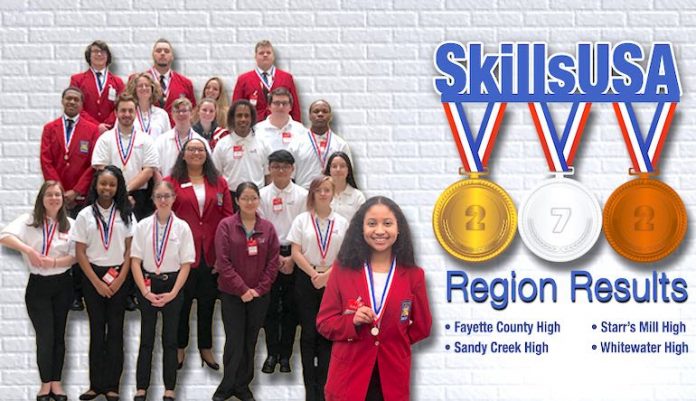 A total of 16 students from four high schools brought home 11 top three placements from the SkillsUSA Region 5 Competition held at Southern Crescent Technical College.
Students from Fayette County High, Sandy Creek High, Starr's Mill High, and Whitewater High collectively won two gold medals, seven silver medals and two bronze medals in events such as information technology, graphic design, job skill demonstration, job interview and automotive service technology.
Students who won gold and silver medals in their events will compete at the SkillsUSA State Leadership and Skills Conference in March. Students advancing to the state conference include: (Fayette County High) Alexander Ortiz Martinez, silver, Automotive Service Technology; (Sandy Creek High) Miguel Campos, gold, Pin Design and Presentation; Noah Bridgeman, gold, Information Technology Services; Brandon Goins, silver, T-Shirt Design and Presentation; Arianna Simpson, silver, Advertising Design; Micah Teasley, silver, Extemporaneous Speaking; (Starr's Mill High) Hannah Ramirez, silver, Job Interview; (Whitewater High) Caden Wilson and Clay Wilson, Job Skills Demonstration.
The state conference will be held at the Georgia International Convention Center March 12-14.
Bronze medal winners from the regional conference include: (Sandy Creek High) Abby Paver, Delaney Schulten, Kayla Brooks, David Zeiler, Ashley Holder, Stokely Dennis, Quiz Bowl; and Ben Dykes, Job Interview.