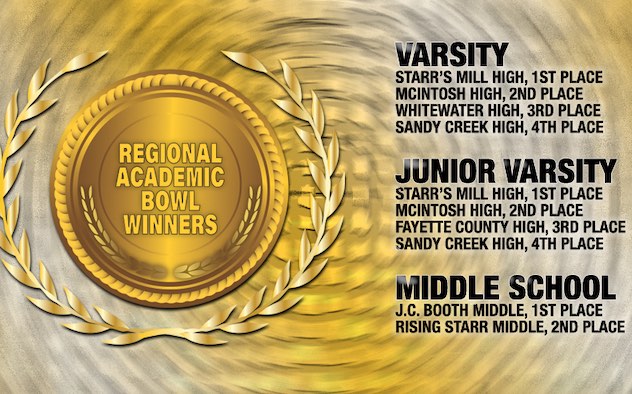 Fayette County's high schools stomped out the competition at the 2019-2020 Griffin RESA Academic Bowl, with all five high schools representing the Griffin RESA region at the statewide Georgia Regional Academic Bowl on February 22 at Apalachee High School in Winder, Georgia.
The top four schools in both the Varsity and Junior Varsity (JV) level qualify for an invitation to compete at the state level.
Starr's Mill High School's Varsity and JV teams each took first place, followed by McIntosh High School's Varsity and JV teams in second place; and Sandy Creek High School's Varsity and JV teams in fourth place.
Also, Whitewater High School's Varsity team and Fayette County High School's JV team each took third place.
At the middle school level, Fayette County nearly swept the competition with J.C. Booth School taking first place and Rising Starr Middle School second place (there are only first through third place winners at the middle school level). Middle school students do not have a state competition.
The Griffin RESA Academic Bowl is a regional competition among middle and high schools in the Griffin RESA region which consists of school systems in Butts, Fayette, Henry, Lamar, Newton, Pike, Spalding and Upson counties.