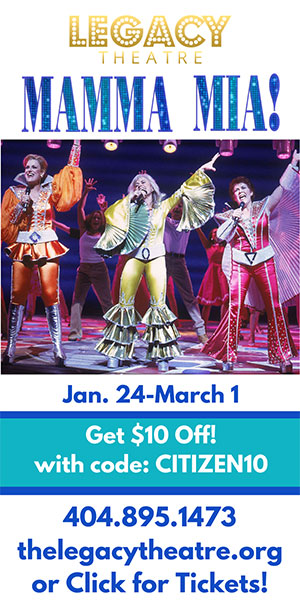 SPONSORED FEATURE
The International ABBA sensation Mamma Mia is coming to Legacy Theatre in a brand new production! This fun, energetic show opens January 24th and runs through March 1st.
Mamma Mia
 is a jukebox musical based on the hit songs of ABBA. It's the story of a young woman, searching for her birth father on a whimsical Greek Island. Full of laughter, hit songs, and a touching story of love and friendship, 
Mamma Mia
 has been an audience favorite since its debut in 1999. The musical, written by Catherine Johnson, has had very successful runs on Broadway and London's West End, then was adapted into the blockbuster film starring Meryl Streep in 2008. Over 65 million people worldwide have experienced 
Mamma Mia
, making it one of the most successful musicals of all time. The story-telling magic of ABBA's timeless songs propels this enchanting tale of love into an unforgettable night at the theatre.
The show is directed by Mark Smith, choreographed by Cumberland County's resident choreographer, Leila Jones, and music directed by Joanna Li. "We've been wanting to produce Mamma Mia here at Legacy for years," says Smith. "So when it finally became available to us, we jumped at the chance. I think our audiences are really excited about this production too. A lot of people have seen the movies, but haven't gotten to experience the live show- and even if they've seen it before, it's a show they'll want to see again."
"There is a magical nostalgia about this show" says Executive Producer Bethany Smith. "The music brings back a lot of fun memories for me and I love all the flashy numbers. We've got a fabulous group of performers and I think the audience is going to love this show. It's got heart, humor and show-stopping Broadway songs, what's not to love?"
The cast is led by Christy Baggett as Donna Sheridan and Erin Foltz as Sophie. Legacy favorites, Amy Bridges (Always…Patsy Cline) and Fracena Byrd (Matilda, Hairspray) round out the Dynamos as Tanya and Rosie. Also returning to Legacy are cast members Cleve Bosher (Forever Plaid), Mac Clark (High School Musical), George Deavours (Hairspray), Corry Ethridge (Matilda), Ed Richardson (Jane Eyre), Hannah Stephens (Matilda), Tyree Thornton (Matilda), Andrew Quackenbush (Hairspray), and Megan Wartell (Pinkalicious). Making their Legacy Theatre debuts are Ian Lah, Jaleesa Levy, Carolyn Oursler, Cristina Mariano, and Chaz Sanders.
The Legacy's 14th season continues after Mamma Mia with Almost, Heaven, featuring the songs of John Denver and the most enchanting musical of all time, The Wizard of Oz. 3-show subscriptions are available for $90 and individual tickets are also on sale now for these productions.
Mamma Mia
 runs January 24th through March 1st with performances Fridays & Saturdays at 8 pm and Saturdays & Sundays at 3 pm. Adult tickets are $30-$40, Senior & Student discounts are available as well as discounts for groups of 20 or more. Tickets and subscriptions can be purchased online at 
www.thelegacytheatre.org
 or by calling the Box Office at 404-895-1473. The Legacy Theatre is located at 1175 Senoia Rd. in Tyrone.